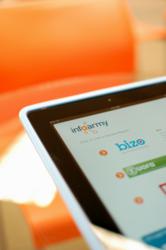 "Our goal is to recruit a global army of researchers to build the largest and most comprehensive database of business intelligence reports in existence."
San Mateo, CA (PRWEB) October 23, 2012
InfoArmy, the startup pioneering crowdsourced competitive intelligence, announced today at CrowdConf 2012 that it has secured $17.3 million in Series B funding led by Norwest Venture Partners with participation from Trinity Ventures. Jeff Crowe of Norwest and Patricia Nakache of Trinity will be joining InfoArmy's Board of Directors.
"Our goal is to recruit a global army of researchers to build the largest and most comprehensive database of business intelligence reports in existence. This raise further validates our model and the whole concept of crowdsourcing and the crowdsourcing industry," explains Jim Fowler, CEO and Founder of InfoArmy.
This round brings InfoArmy's total funding to $19.3 million following the $2 million Series A from Fowler, who self-funded the company in 2011.
"InfoArmy is pursuing a large idea, with a tremendous opportunity to disrupt the market for competitive intelligence," said Jeff Crowe, general partner at Norwest Venture Partners (NVP). "We are particularly excited to partner with Jim again, given his success in pioneering the Data-as-a-Service (DaaS) business category at Jigsaw. We are confident that InfoArmy will be the next big winner in the world of Data 2.0."
InfoArmy has gained significant momentum in the four months since its public launch, and already offers 1,800 free and paid reports via its website and iPad app. On Oct. 5th, the company announced that they are expanding to cover public companies as well as private.
"As Jim Fowler proved at Jigsaw, the information service industry is ripe for disruption," says Patricia Nakasche of Trinity. "We are excited to be partnering with InfoArmy as it marches towards its vision of leveraging crowdsourcing to aggregate and deliver deep, accurate, and fresh competitive intelligence."
About InfoArmy
InfoArmy is pioneering crowdsourced competitive intelligence for businesses. It creates comprehensive and affordable Competitive Intelligence Reports designed for the iPad. The reports are created by a global community of researchers motivated by a crowdsourced revenue-share model. Founded in 2011 and launched publicly in June 2012, InfoArmy has 27 employees with offices in San Mateo, CA and Coimbatore, India. The free InfoArmy app is available at the iTunes App Store. More information at http://www.infoarmy.com.
About Norwest Venture Partners (NVP)
Norwest Venture Partners (NVP) is a multi-stage investment firm that has partnered with entrepreneurs to build great businesses for more than 50 years. The firm manages over $3.7 billion in capital and has funded more than 500 companies since inception. Headquartered in Palo Alto, California, NVP has subsidiaries in Mumbai and Bengaluru, India and Herzliya, Israel. NVP makes early to late stage venture and growth equity investments in U.S. and global companies across a wide range of sectors including: cloud and IT infrastructure, SaaS and enterprise software, Internet and consumer, services and healthcare. For more information visit: http://www.nvp.com.
About Trinity Ventures
Founded in 1986, Trinity Ventures is a leading seed and early stage venture capital firm dedicated to partnering with passionate entrepreneurs to transform revolutionary ideas into reality. With over $1 billion under management, Trinity Ventures believes in personal engagement,mutual respect and goal alignment with the entrepreneurs. The firm has particular emphasis on Cloud, Digital Media, Social Commerce and Entertainment, and Software as a Service. http://www.trinityventures.com.