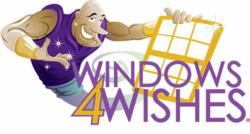 We found this would be a great opportunity to spread the word about the Food Bank and collect as much food and supplies as we could with the help of our customers.
Cincinnati, OH (PRWEB) October 23, 2012
Rich Wallace and his team at Window Genie Raleigh are asking customers to help support The Food Bank of Central & Eastern North Carolina through donations to their food drive. The Food Bank's mission is to provide food to those in the community so that "no one goes hungry in central and eastern North Carolina." The Food Bank accepts a wide range of canned goods, staple foods and hygiene items. Window Genie aims to help eliminate any shortages. Customers may give donations directly to Wallace and his team who will deliver to the Food Bank on a weekly basis.
Mike Boone, owner of Window Genie southwest Raleigh is contributing a similar effort to the Windows 4 Wishes program, collecting items for the Holly Springs Food Cupboard. "We thought what he was doing was a great idea and a good example of using Window Genie's resources to give back, so that inspired us," said Wallace.
"We interact with different members of the community every day when we visit their home to do a cleaning," Wallace said, "so we found this would be a great opportunity to spread the word about the Food Bank and collect as much food and supplies as we could with the help of our customers."
For more information about the Food Bank of Central & Eastern North Carolina please call 919-875-0707
Window Genie is a nationally ranked home service franchise that offers window cleaning, window tinting, pressure washing and more. To learn more about Window Genie of Raleigh please contact Rich Wallace at rwallace(at)windowgenie(dot)com or call (919) 647-4722. Also, visit his website for more information about services and seasonal specials.
###