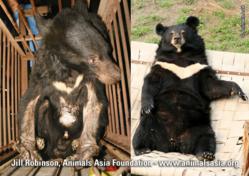 The welfare of 104 bears, have already suffered enough, and would be seriously compromised
(PRWEB UK) 24 October 2012
Animal Friends Insurance has received shocking news that Animals Asia – a charity working to end bear bile farming in China and Vietnam, with world-class bear sanctuaries in both countries, are suddenly being asked to close their sanctuary in Vietnam and leave Tam Dao National Park.
On Friday 5 October, the Ministry of Agriculture and Rural Development (MARD) informed Animals Asia that the Ministry of Defence had issued an order to evict the entire sanctuary operation and the 104 rescued bears that live there. The eviction is in direct violation of the Vietnam government's 2005 agreement allowing Animals Asia to develop a rescue centre on 12 hectares of the park that would permanently rehabilitate and house 200 endangered bears rescued from the industry.
It is believed that the park director Do Dinh Tien lobbied the Ministry of Defence to evict Animals Asia, so that he can hand the land to Truong Giang Tam Dao Joint Stock Company, of which his daughter is part-owner. The company intends to build commercial property including a tourist park and hotels. The closure of the sanctuary would see 104 bears that have been rescued from the bile industry evicted, 77 local Vietnamese staff made unemployed, and financial losses to Animals Asia of more than US$2 million.
Jill Robinson MBE, Dr.med.vet. h.c, Founder and CEO of Animals Asia commented:
"We are desperate to ensure that the rescue centre is not closed down and relocated. The welfare of 104 bears, who have already suffered enough, would be seriously compromised, and the rescue centre and US$2 million in donations would be lost. We're calling on the public, and the media, both in Vietnam and overseas to urgently appeal to the Prime Minister of Vietnam for justice, and to let him know their feelings on this terrible threat to the bears' welfare."
Ricky Gervais has also offered his support to the campaign, he said "These bears have spent their entire lives in cages having their abdomens jabbed and their bile sucked out of their bodies. They finally get rescued, they get freedom, they get to put their pain behind them... only now to have their home taken away from them, and why? So an official can muscle in and take over their land for his personal gain. Enough is enough. Stop the eviction of these bears from their homes. Support Animals Asia in their fight to save their bear sanctuary in Vietnam".
In the event of an eviction, the bears would be forced to return to cages to be relocated – a move that would have a major negative impact on their mental and physical well-being. Jill Robinson at Animals Asia expressed concerns that "It is likely to take at least two years to establish a new centre with outdoor enclosures".
Not only would it impact the great work Animals Asia have achieved it will also likely have a negative affect on the future of international trading with Vietnam. "The eviction is in direct violation of the Vietnam government's agreement with Animals Asia", Robinson continues, "future businesses will not be encouraged to trade there if that is the way agreements are treated by the Vietnamese government", added Chris Fairfax, Marketing Director at Animal Friends.
Animal Friends is asking everyone to support and help Animals Asia fight this eviction notice in a number of ways – by appealing directly to the Prime Minister of Vietnam and by enlisting help from the wider international community and the media. They need our urgent help now.
"As a leading pet insurance company in the UK Animal Friends has been working alongside Animals Asia for many years, Gemma the Moon Bear is even named after one of our employees. We want to draw this situation to the public's attention and to on-going the plight of the Moon Bear in Asia. As a company we pride ourselves on not just saying but doing." said Elaine Fairfax, MD, Animal Friends Insurance.
By writing emails and sending snail mail to the Prime Minister of Vietnam and The Vietnamese Ministry of Agriculture you can help petition against the eviction. To do your bit today by simply visiting http://www.animalfriends.org.uk/StopTheEviction, copying and pasting the enclosed emails and sending to the PM and Ministry of Agriculture.
About Animal Friends Insurance
Animal Friends Insurance is a leading UK specialist pet insurance provider offering cover for dogs, cats and horses whilst donating large amounts from their own profits to animal welfare worldwide. Animal Friends is the trading name of Animal Friends Insurance Services Limited, company number 3630812, registered office Animal Friends House, Sunrise Way, Solstice Park, Wiltshire, SP4 7QA. Animal Friends is regulated by the Financial Services Authority, FSA Registration Number: 307858
About Animal Asia
Animals Asia is devoted to ending the barbaric practice of bear bile farming and improving the welfare of animals in China and Vietnam. Promoting compassion and respect for all animals and working to bring about long-term change.
The Animals Asia team has been rescuing bears from the bear bile industry since 1994 and is the only organisation with a bear sanctuary in China. Our founder and CEO, Jill Robinson MBE, is widely recognised as the world's leading expert on the cruel bear bile industry, having campaigned against it since 1993.