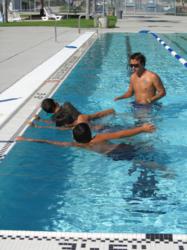 Loma Linda, CA (PRWEB) October 22, 2012
Dozens of low-income children learned about water safety and how to swim at Loma Linda University Drayson Aquatics Center, thanks to a $15,000 grant from the Kaiser Foundation Hospital Fontana Medical Center.
The grant helped support the Goal 4 Health Program and provided for swim lessons to low-income kids enrolled in the program. Goal 4 Health is a community soccer league organized by the Loma Linda University Community-Academic Partnerships (CAPS).
The grant for the 2012 soccer season provided scholarships to low-income participants to join the league, as well as pay for the swim program, which ran Sept. 16 through Oct. 21, that allowed the kids and their families continued physical activity after the soccer season. The Inland Valley Business Professionals Association (IVBPA) also provided support for kids who were on the program's waiting list.
"This season's grant from Kaiser Foundation Hospital in Fontana was a blessing. It allowed us to sponsor 100 players and expand the healthy living component of the program to include post-season swim lessons for the kids," said Goal 4 Health Director Tina Pruna. For more information about CAPS or Goal 4 Health, call 909-651-5011.
###
About Loma Linda University (http://www.llu.edu)
Loma Linda University is a Seventh-day Adventist educational health-sciences institution with more than 4,300 students located in the Inland Empire of Southern California. Eight schools make up the University organization: Allied Health Professions, Behavioral Health, Dentistry, Medicine, Nursing, Pharmacy, Public Health, and Religion. More than 55 programs ranging from certificates of completion and associate in science degrees to doctor of philosophy and professional doctoral degrees are offered. Students from more than 80 countries around the world and virtually every state in the nation are represented in Loma Linda University's student body.