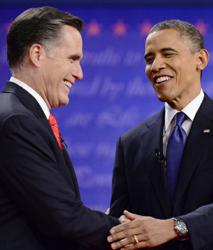 ...there is but a small foreign policy disparity between the candidates...
Washington, DC (PRWEB) October 22, 2012
For the third and last time before the election, Barrack Obama and Mitt Romney will face each other on a debate. And as abclocal.go.com reported, foreign policy was the chosen focus of it. But among other matters, the candidates' stand on the issue of military budget cuts clearly presented their small foreign policy difference, GreenBeanBuddy commented.
According to political analyst Capozzi, and as related by the abclocal report, "...the winner won't come from what is said but how it's presented." That's because there is but a small foreign policy disparity between the candidates, asserted GreenBeanBuddy.
Set to take place in Lynn University in Florida, the said debate will tackle the issues about the deadly attacks in Libya, the war in Afghanistan, the nuclear ambition of Iran and the rise of China.
Here is an excerpt from the post Third Presidential to Tackle Foreign Policies by GreenBeanBuddy.com.
"The third and final presidential debate between Barrack Obama and Mitt Romney is all set for tonight. And the chosen battleground is the state of Florida. The focus – foreign policy.
According to polls, Romney won the first debate. And though several people said that he tied with the Democrat on the second, many countered that Obama reclaimed himself and bagged it. But with the third debate, critics say that the winner will be determined more on how he presented his points than what his points are."
As said by the news website GreenBeanBuddy.com, small may be the difference between the two candidates in terms of foreign policy, it's still a difference. And that, it said, lies on their plans to solve the foreign issues to which they are in agreement. However, that small disparity is clearly presented by their opposing stand on the issue about the cutting of military budget more than anything else, the website added.
Get More of the Latest News in Entertainment, Sports and Politics at GreenBeanBuddy.com.