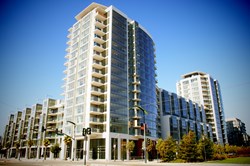 The mood at the Madrone condominiums is definitely one of excitement this fall.
San Francisco, CA (PRWEB) October 23, 2012
Vi Pavlicevich, San Francisco Real Estate Expert, moved into the Madrone Mission Bay luxury condominium development in September with her family. Vi purchased her residence in 2011, and joins other families moving in this Fall as the developments first residents.
Vi Pavlicevich, who represents the Mission Bay neighborhood for ClimbSF Real Estate Brokers, moved in to Madrone Mission Bay last month with her husband and one and a half year old son. Madrone is Mission Bay's newest condominium development, having just opened its doors to the first residents in September.
Like many residents, Vi purchased her unit back in 2011 based on the floor plan and mockups, but saw an impressive investment opportunity at the time. At $550 per square foot, condominiums at Madrone were priced competitively, compared to the average of around $850 per square foot at One Rincon Hill and other downtown high-rises.
At such a reasonable price per square foot, Vi was able to purchase a more spacious unit, a real plus for her young son, who has been enjoying the ample space for playtime. With San Francisco's traditionally warm autumn, Vi is excited to see more residents take advantage of the outdoor amenities and mingle in the common spaces. The mood at the Madrone condominiums is definitely one of excitement this fall.
Mission Bay is expected to explode in the next 5 years, and Madrone, developer BOSA's second development in the neighborhood is offering luxurious homes at great prices. As is the case in most of these developments, 1 bedrooms sold out quickly and are no longer available. Phase 1 of Madrone has seen 152 units enter in to contract, with 23 units still in reservation. Phase 2 has 47 reservations, and 123 units still available. Prices for these units are as follows: 1 BR's starting at $585k, and 2 BR's starting at $869k. More spacious 1,900 sq. foot units are also still available and are priced at $1.9 M.
The neighborhood features immediate access to the Muni T-Line and a short walk to Caltrain. Easy access to the Bay Bridge, the 101 and 280 freeways. Shopping choices include a Gourmet Safeway, Whole Foods, with a Trader Joe's nearby. Outdoor activities include walking and bike paths, and kayaking along the Embarcadero, Mission Creek and the Blue Greenway. The neighborhood is also great for families with young children because of the three parks in the neighborhood. Entertainment options include dozens of popular restaurants.