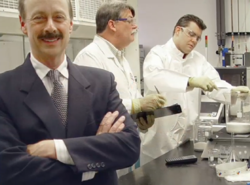 Birmingham, MI (PRWEB) October 23, 2012
CureLauncher is the next step in the way new drug and medical device research gets funded. The timing for this change in funding is critical. According to The Sequestration Transparency Act released by the White House, The National Institutes of Health (NIH) will face $2.5 billion in funding cuts on January 2. The immediate effect from those cuts will be the further loss of jobs and a devastating impact to health research.
"We are honored to have created this community of supporters dedicated to helping fund new drug and medical device research," said David Fuehrer, company Vice President. "CureLauncher provides current and former NIH-funded researchers a place to connect with donors who are passionate about their research. As a two-time cancer survivor, I know first-hand how important this research is to saving lives."
A release from the American Cancer Society states: thanks to federal dollars funding research through the NIH, cancer research centers all over the country have made huge strides in finding new treatment for all cancers, while at the same time impacting local economies. What could be better than saving lives and creating jobs? Yet, that progress could be in jeopardy.
CureLauncher is focused exclusively on raising money for breast cancer cures for the next 90 days and then will expand to other cancers and chronic diseases. Founder and President, Stephen Goldner JD, RAC, announced that Dr. Lee Roy Morgan M.D., Ph.D. is the first recipient of crowdfunding for metastatic breast cancer. Dr. Morgan's research is currently featured on the CureLauncher website.
Steve Goldner also founded Regulatory Affairs Associates (http://www.regaffairs.net), experts at getting FDA review and approval for drugs and medical devices. He observed the impact funding cuts have on these companies and was inspired to create CureLauncher as the solution.
To learn more, visit http://www.curelauncher.com.