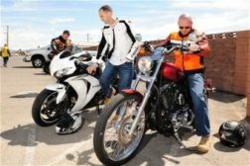 A group such as this reinforces the importance of safety among all riders while keeping a fun atmosphere going.
Newport Beach, CA (PRWEB) October 22, 2012
With temperatures dropping quickly and sharply in North Dakota, the "Coyotes" of Division West's 5th Armored Brigade are considering putting their motorcycles into so-called winter hibernation, an Oct. 10 news report in the Blackanthem Military News states. While doing so, the soldier bikers of the brigade's 2nd Battalion 361st Combat Support Regiment completed a motorcycle safety rider for the quarter as part of their unit's Motorcycle Mentorship Program, the report states.
According to the article, the program establishes voluntary installation-level motorcycle clubs in which seasoned riders and novice riders can create a support system that encourages safety and fun. The program, for example, includes classes that educate riders about pre-ride checklists such as checking tires, wheels, cables, lights, oil and fluids. The group even partners with civilian businesses to provide safety training, the report states.
It is heartening to see this unit's focus and commitment to safe motorcycle riding, says John Bisnar, founder of the Bisnar | Chase personal injury law firm. "The idea of grouping experienced and inexperienced riders is a great idea. Not only can they learn from each other, but a group such as this reinforces the importance of safety among all riders while keeping a fun atmosphere going."
Recent studies conducted by the Armed Forces Health Surveillance Center document sharp increases in the numbers and rates of motorcycle fatalities among service members, according to a July 6, 2009 report in the Army Times. The number of service members injured and hospitalized in motorcycle accidents increased by more than 100 from 2007 to 2008 and deaths increase by 18 over the same period, the report states. According to the report, these numbers have only increased since the wars in Iraq and Afghanistan with mental health workers expressing concerns that service members on motorcycles may be seeking to recapture the rush of war while taking more risks.
Organizations such as the Coyotes within the military and programs such as the Motorcycle Mentorship Program can certainly help keep our off-duty service members safe, Bisnar says. "These service members need all the support and training they need to ensure that they are safe while enjoying what can be an enjoyable and exhilarating hobby."
About Bisnar | Chase
The California motorcycle accident lawyers of Bisnar | Chase represent victims of auto accidents, defective products, dangerous roadways, and many other personal injuries. The firm has been featured on a number of popular media outlets including Newsweek, Fox, NBC, and ABC and is known for its passionate pursuit of results for their clients. Since 1978, Bisnar | Chase has recovered millions of dollars for victims of auto accidents, auto defects and dangerously designed and/or maintained roadways.
For more information, call 800-561-4846 or visit http://www.california-lawyer-attorney.com for a free consultation.
Sources: http://www.blackanthem.com/News/Military_News_1/Coyotes-hit-trail-for-motorcycle-safety24600.shtml
http://www.armytimes.com/news/2009/07/military_motorcycle_accidents_deaths_070609w/