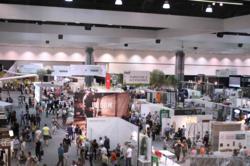 "The quality and quantity of the programming produced by Dwell will bring our members numerous opportunities to expand their networks and engage directly with the design community and consumers in a new and exciting way," says ASID CEO Randy Fiser
Washington, DC (PRWEB) October 23, 2012
The American Society of Interior Designers(ASID) and Dwell Media today announced their national partnership. Dwell will serve as a media partner for the ASID annual Chapter Leadership Conference, which will be held at Dwell's premiere design conference and exhibition, Dwell on Design, in Los Angeles in June. Dwell on Design will welcome 500 chapter leaders and board members of ASID to join the 30,000 attendees expected this year. The partnership rounds out both organizations' mission to bring together the design community and consumers to celebrate and advance great design.
The partnership provides ASID's 30,000 members special discounts to Dwell's national roster of design industry events all year long including Dwell on Design, Dwell Home Tours, Dwell Conversations, and City Modern NYC.
"ASID and Dwell are committed to connecting consumers with great design and fostering dialogue about its value," said Randy Fiser, EVP and CEO of ASID. "The quality and quantity of the programming produced by Dwell will bring our members numerous opportunities to expand their networks and engage directly with the design community and consumers in a new and exciting way. The scope of this partnership is an invaluable benefit for our members and partners."
"Dwell Media has long been an ardent supporter of ASID nationally, and locally, through chapters around the country. Our new partnership elevates our relationship with ASID to bring the most timely design information, ideas, and innovations to ASID chapter leaders and members through Dwell on Design," said Michela O'Connor Abrams, President, Dwell Media. "We jointly crafted what we feel is the most progressive partnership between a design-centric media company and the most prestigious interior design association."
Dwell Design Week 2013 begins on June 14 with an opening party and home tours and continues throughout the week with events across Los Angeles. On June 21 the doors of the Los Angeles Convention Center open for the 8th annual Dwell on Design, where 450 exhibitors and 30,000 attendees gather to celebrate great design.
***
About DWELL MEDIA, LLC: Dwell Media is the parent company of Dwell magazine, Dwell Digital + Mobile, Dwell on Design events, and the Dwell Homes Collection. Founded in 2000 by Lara Deam, Dwell has received countless industry awards and is widely regarded as a leading voice in the modern design movement. Championing a philosophy that is idea-driven and sensitive to social and physical surroundings, its enduring passion for design leads a passionate community of design-seekers to be "At Home in the Modern World." Learn more at http://www.dwell.com.
About AMERICAN SOCIETY OF INTERIOR DESIGNERS (ASID): The American Society of Interior Designers (ASID) is a community of people—designers, industry representatives, educators and students—committed to interior design. Through education, knowledge sharing, advocacy, community building and outreach, the Society strives to advance the interior design profession and, in the process, to demonstrate and celebrate the power of design to positively change people's lives. Its more than 30,000 members engage in a variety of professional programs and activities through a network of 48 chapters throughout the United States and Canada. Learn more at http://www.asid.org.