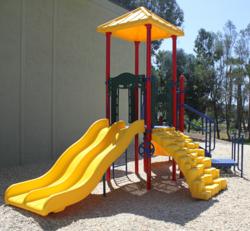 New Playground from San Diego Playground Company Now Open at Emerald Vista Apartments
Carlsbad, CA (PRWEB) October 23, 2012
Serving the southern California market, Pacific Play Systems has recently completed three new commercial playground equipment installations in Oceanside and Vista. The most recent installation consisted of site preparation, demo, hauling and installation of a 5-12 age group play structure for the Carriage Hills HOA, located in Vista, CA. The new playground replaces the HOA's existing wooden playground, a structure that had begun to show signs of wear and tear and was badly in need of replacement. The site's existing rubber nugget surfacing, however, has been kept intact and is still in great condition.
Earlier this month, Pacific Play also upgraded the existing playground facility at the Ocean View Apartments located in Oceanside, CA. The upgrade consisted of adding a Playcraft four seater spring see saw designed for children in the 2-12 age group, as well as a new dual gyro pod spinner designed for children in the 5-12 age group. Company representative, Adam Bemanian explains that this is the third project that Pacific Play has completed this year for the property management company that oversees the Ocean View Apartments.
Bemanian further explains that they also recently completed a 2-12 playground for Emerald Vista Apartments, located in Vista, CA. The project included some minor grading, installation of a custom Playcraft play structure, as well as engineered wood fibers resilient surfacing. Additional new items provided for the project included site furnishings such as benches, picnic tables and trash receptacles. The new Emerald Vista playground was very much welcomed by the residents, parents and children and it has been receiving a great deal of use ever since its installation.
Pacific Play Systems is also currently preparing to begin installation on several other playground equipment projects located throughout southern California, including a project for a pre-school chain in Santee, an HOA project in Chula Vista, a project for a local resort hotel in Carlsbad, and a large project for the MCCS, Marine Corps Community Services in San Diego, CA. The project for the MCCS consists of multiple playground structures, multiple swing sets, a range of freestanding activities, and various site amenities. And at the Los Angeles Air Force Base, the company will soon begin installation on a new themed playground designed for children within the 5-12 age group. On these, as well as in additional upcoming projects, Pacific Play will be introducing a range of newly manufactured components such as the new six-sail hex shade roofs, a number of new ground level ADA accessible play events and more…