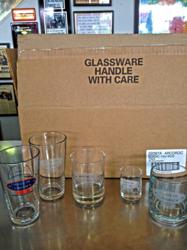 The heavy pint glass just feels right in your hand.
Elma, New York (PRWEB) October 23, 2012
The Made In America Store is proud to announce Glassware from Twinline will make their way into the all US made products store. The all American manufactured Glassware brings the highest quality of Glass Drink-ware available to the public with 8 different styles to choose from and consumers are sure to find a glass worth owning.
Make sure to check out the Home & Living section at the Made In America Store's E-commerce site, click here to visit MadeInAmericaStore.com!
With an already healthy roster of kitchen items, decorations and bath products in the Home & Living department, the Glassware from Twinline completes the section with the top quality glass consumers have come to rely on for American made.
The Made In America currently offers two versions of the Pint Glass or "Mixing Glass", two versions of the Coffee Mug, a Wine Glass, a Rocks Glass and a Jigger Shot Glass. The two versions mentioned of the Pint Glass and Coffee Mug is a satin finish Made In America Store logo or a painted colored logo.
"You can feel the quality in the glass," said a Made In America Store customer. "The heavy pint glass just feels right in your hand."
The Glassware from Twinline is met with more American manufactured Drink-ware like the Buffalo Shot Glass and the Redneck Drinking Glass.
This holiday season, set your dinner table with elegant glass products from the Made In America Store. Whether consumers are looking for the perfect Glass Mug for hot chocolate or a hardy Pint Glass for that seasonal brew, the Made In America Store delivers the quality Glassware consumers want.
Click here to shop for the all American made Twinline Glassware at the Made In America Store!
The Made In America Store is the only brick and mortar store that sells 100% made in the United States products from over 350 vendors. Consumers can visit http://www.MadeInAmericaStore.com or call 716-652-4872 to get more information or shop our catalog of over 3,500 items. Both Active Duty Military Personnel and U.S. Military Veterans receive a 10% discount every day. Followers of the "Made In America" movement can keep updated with the Made In America Store through Facebook, Twitter, Google+, Pinterest, FourSquare and even their own blog on Wordpress!