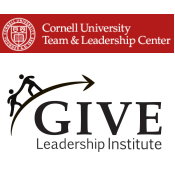 What makes GIVE Leadership' partnership with the CTLC unique is the blend of lecture and focused experiential learning activities. The models are assimilated and seen in action immediately, not viewed as a purely mental framework.
Ithaca, New York (PRWEB) October 23, 2012
Trainers from the Cornell University Team and Leadership Center (CTLC) partnered recently with GIVE Leadership Institute (GLI) and its co-founder Al Gonzalez for a multi-day experience-based training session at a large academic institution. The session focused on the use of tools for building sustainable leadership, creativity and trust. Gonzalez and CTLC Associate Director Jim Volckhausen describe the program as physically engaging, mentally challenging hands on activities that address widespread problems such as lack of employee engagement, negativity bias and leadership styles.
Gonzalez explains that "what makes GIVE's partnership with the CTLC unique is the blend of lecture and focused experiential learning activities. This is critical because the models are assimilated and seen in action immediately, not viewed as a purely mental framework."
"One of the biggest challenges for many trainers is assuring that the new insights and tools gained are carried back to the workplace, applied directly to the issues found there," Volckhausen said. "The blend between Al's offerings and the work of CTLC allowed participants to carry away easy-to-remember models, with a body memory of their value."
The Cornell team is a nationally recognized leader in the field of experience-based teambuilding and leadership development offering programs in a wide range of diagnostic instruments, leadership tools, and theoretical models. GIVE Leadership Institute provides comprehensive solutions to workforce sustainability issues with a focus on leveraging the natural talents of client organizations' team members in an environment of trust and safety. Bringing GIVE's multimedia lectures and presentations together with skilled action learning facilitation by CTLC staff helped participants experience the immediate and transferable value of the sustainable leadership theories and models.
The components of the training program included 5 key components:
Creativity: Participants worked together in two creative problem-solving activities to highlight guidelines for supporting creativity and innovative thinking in work groups.
Team Development: A Step Ladder Model of Team Development was introduced and applied experientially.
Building Trust: Participants engaged in a sequence of trust-building activities, supported by an overview of the value and essential elements of trust in a high-performance team.
Leadership Styles: An intuitive 4-quadrant Leadership Wheel, compatible with Myers Briggs, was introduced, with participant self-assessment. The model was then applied in a group activity, with reference to ways to actively incorporate into work team functioning.
Conflict Management: Drawing on multiple tools and techniques, participants explored tools for minimizing unnecessary conflict, while using group diversity to strengthen team performance.
Strength-based Team Development: With reference to tools such as Appreciative Inquiry and StrengthFinder assessments, participants explored ways to actively draw on individual and team strengths.
Team Development Plan: Participants will be supported in outlining steps for team development in their workplace.
The strategic partnership between GIVE Leadership and the Cornell team began at the 2012 NERCOMP Annual conference held by EDUCAUSE, the non-profit association of universities, corporations, government, and other nonprofit organizations focused on enhancing higher education through the use of information technology. The conference focused on how technology enhances or limits human interactions, and the joint program offered by GIVE and Cornell led to the recent presentation in the North East. "The Student Union offered a perfect example of the way our combined trainings can be brought to any university or corporate setting," said Volckhausen.
GIVE Leadership Institute was founded in 2010 with a mission to help present and future generations of leadership better understand the need for change in the recognition of people as precious resources and equip them to develop truly sustainable teams. GLI's programs are largely based on Gonzalez's 16 years of experience leading IT and web development teams for Motorola and CBS Sports as well as Cornell (in his capacity as the university's Sr. Director of Marketing and Strategic Planning).
The leadership tools GIVE provides have been applied, tested and refined in an array of diverse teams composed of IT engineers, developers, designers and project managers and featured on leadership blogs such as linked2leadership.com and aboutleaders.com. These tools link employee engagement to true sustainability and have been well received by organizations who share the increasing focus on the "Triple Bottom Line" (People, Profit and Planet) and workplace bullying.