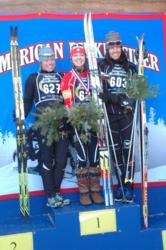 We are very pleased to be associated with Brandy because she is the kind of lady you would want to be a role model for your own daughters - she's ambitious, motivated, driven and professional
Bozeman, MT (PRWEB) October 23, 2012
The Heart Rate Watch Company is pleased to announce its sponsorship and affiliation with elite women's cross-country skier Brandy Stewart.
"Brandy finished 2nd Place last year in the women's 50 kilometer Classic ski race at the Birkebeiner, which is the most prestigious race on US soil", says Rusty Squire, President of the Heart Rate Watch Company. He adds, "She is a very professional young woman and a graduate of Stanford, so we are happy to have someone with Brandy's poise affiliated with our brand."
Brandy's 2013 competition schedule calls for attending the November 2012 US Super Tour competition in West Yellowstone, MT, followed by the December 2012 World cup trials in Canmore, AB, Canada. The New Year begins with the Nor-Am in Silverstar, BC, then the US Nationals in Soldier Hollow, UT, followed by the  US Super Tour in Minnesota.
In February Brandy will compete in the Eastern Canadian Championships along with the American Birkebeiner. The season rounds out with competitions again in West Yellowstone, Montana, the Canadian Championships in Whistler, BC and the US Super Tour Final in Truckee, California.
"We are very pleased to be associated with Brandy because she is the kind of lady you would want to be a role model for your own daughters - she's ambitious, motivated, driven and professional", says Squire. He adds, "Brandy will be using the Polar RCX5 watch this coming winter, although she also has a Polar RS400 and Polar RS300X that she has used in the past".
The Polar RCX5 GPS will allow for tracking precise distances and pace in real-time, along with creating maps of the workout. Squire adds, "We are hoping this type of pacing tool and data will really help Brandy with her skiing".