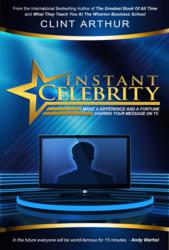 Today it's possible for anyone to become World Famous in 1 day for free without leaving home - and without killing anybody.
Los Angeles, CA (PRWEB) October 23, 2012
Andy Warhol's legendary prediction "In the future everyone will be world famous for 15 minutes" is one step closer to reality. The author of "Instant Celebrity" is out to prove that with modern technology anyone can become world famous today for Free without even leaving the comfort of their own home, and without killing anybody.
On December 28, using freeHD Broadcast services from OoVoO.com, Google+, and Skype, Clint Arthur will establish a new Guinness World Record for Most Broadcast TV Interviews by 1 Person in 24 Hours. According to Clint, "Anybody can get famous on TV today if they just understand and use the formula 6 Things You Should Never Do If You Want to Get Your Message On Television."
1) Never try to get on TV without George Clooney, Lady Gaga, or some other Major Celebrity in your segment. Celebrity is the primary Hook for Western TV Audiences, and producers appreciate opportunities to run B-Roll of celebs.
2) Never Forget a Timely Hook such New Year's Eve to help your segment be relevant as an important current event. News is about what's happening Now; a Timely Hook is essential.
3) Never leave out a Local Hook, such as Free Kindle downloads of Clint's New Book "Instant Celebrity" for your viewers who email Clint(at)InstantCelebrity(dot)com and mention your station. Local News is about Local Angles, and you must always provide producers with a solid local hook.
4) Pop Culture should never be left out either; simple references like Andy Warhol and Clint doing these interviews via Goggle+ and Skype are examples of how easily you can use Pop Culture to make your segment resonate with viewers.
5) Never do a segment without everyday items as Props. Talking heads are boring. Props everyone can relate to, such as a Glass of Water, make segments dynamic.
6) Never forget to do a Demonstration to make your segment Active. Even a simple demo like Drinking a Glass of Water adds vital action to segments.
B-:Roll Available from Clint for this Segment
George Clooney at the Oscars
Lady Gaga On Stage Performance
Andy Warhol Interview
U.N.I.C.E.F. Kids
Clint Arthur is the #1 Bestselling author of "The Greatest Book Of All Time" and "What They Teach You At The Wharton Business School." His new book, "Instant Celebrity," explains how anyone can use the methods which get Clint booked on dozens of Network TV shows each year to inspire millions of people to live larger, more intensely, with more impact on the world.
Contact: Clint Arthur
Clint(at)ClintArthur(dot)com
SKYPE: ClintArthur
(310)415-0450
For More Segment Proposals Clint Can Do With YOU on Dec 28 visit http://www.InstantCelelbrity.com
Get "Instant Celebrity" for Free on Amazon.com as a Free Kindle Download on December 28, 2012
Clint Arthur is available for TV Interviews from Los Angeles during Guinness World Record Attempt at Most TV Interviews in 24 Hours...