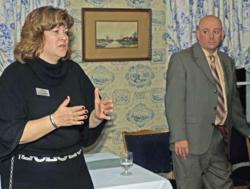 "If you're a homeowner in trouble, now's the time to make a move." -- Kelly Holmquist.
Long Valley, NJ (PRWEB) October 23, 2012
Although the news media and analysts are talking about an improving real estate market, many people are still struggling with mortgages they can't pay and circumstances dragging them toward foreclosure. Two Morris County real estate experts will explore short sales and other tactics to avoid help those people at a free workshop at 7 p.m. Nov. 5 at the Publick House Restaurant in Chester.
Kelly Holmquist, broker-sales associate and team leader of The Holmquist Team, affiliated with Keller Williams Towne Square Realty, and Martin D. Eagan, a Morristown attorney who specializes in distressed home sales, will discuss steps homeowners can take to avoid losing their houses to foreclosure. They'll also touch on ideas to deal with overwhelming mortgages.
Information is available at http://www.theholmquistteam.net or by calling the office at (908) 867-7109.
New Jersey ranks fourth in the nation in homes with delinquent mortgages, according to the Otteau Valuation Group. One in six home loans are "underwater" in New Jersey. In addition, legal wrangling over how foreclosures are processed has delayed banks from foreclosing on many homes. Those lawsuits now have been settled, and the number of foreclosures will be rising in New Jersey.
"With more people coming into the real estate market, there are more opportunities for distressed homeowners to take advantage of tactics such as short sales," said Holmquist. "There are private, state and federal programs and tactics that can help struggling homeowners reduce their loans or sell their home without losing it foreclosure."
Short sales are one tool to get homeowners out from under an oppressive mortgage. In a short sale, the bank agrees to allow a home to be sold for its market value rather than its mortgage value. While it's still not easy to do a short sale, it's better than dealing with a foreclosure.
"If you're a homeowner in trouble, now's the time to make a move," said Holmquist. "You should start by contacting a real estate agent who is knowledgeable in distressed sales. He or she can help you understand what options you have, what you need to do to get your home ready to sell and, perhaps, where you can live next. An agent should also have the proper contacts to work on your behalf with lenders."
There are many alternatives to having a home taken by foreclosure, but homeowners need to give themselves ample time to investigate the options and take action. Those who need to get out of a mortgage that has them "underwater" should call a Realtor today to explore their options.
To reserve a seat at the Nov. 5 workshop or get more information, call The Holmquist Team office at (908) 867-7109 or click on http://www.theholmquistteam.net