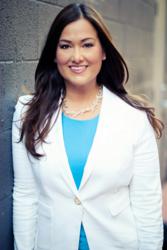 Washington, District of Columbia (PRWEB) October 22, 2012
WJLA-TV and Toyota Dealers honored Sara Jaffe, Senior Director of Development at the Wolf Trap Foundation for the Performing Arts, as one of seven recipients of the 2012 Tribute to Working Women Award, in a luncheon held on October 19, 2012 at the National Press Club. For the past 18 years, the Toyota Working Women campaign has celebrated outstanding Washington area women who are making a positive difference at home, at work, and in the community. The award was bestowed upon Jaffe in recognition of her 15-year nonprofit career advancing arts and culture in the Washington, D.C. region, and her achievements as a professional, volunteer, wife, and mother.
Throughout her extensive career, Jaffe has worked tirelessly in arts management and philanthropy for organizations large and small. She was appointed Senior Director of Development of the Wolf Trap Foundation in July 2012, where she leads a team of 17 to develop and implement the nonprofit organization's comprehensive institutional advancement program to secure contributed income through annual giving, individual major gifts, corporate membership and sponsorship, planned giving, special events, foundation and government grants. Previously, she was Vice President of the Community Foundation for Northern Virginia, a leading grant maker in the region. She has also held arts management-related positions at The Kennedy Center, Shakespeare Theatre Company, and Signature Theatre.
Jaffe is currently a member of the Board of Visitors of The Hockaday School, and is on the Board of Directors of The Inkwell, a new play development and playwriting organization. She is a member of Leadership Arlington, Class of 2006, and lives with her husband David Ostroff and their daughter Hannah Jaffe Ostroff in Arlington, Virginia.
The Toyota Tribute to Working Women campaign has been nominated for several awards for broadcast and marketing excellence, and was honored with the highly regarded Promax International Gold Medallion Award for creative excellence in marketing and promotion.
Please visit the link for a list of previous honorees: [http://www.abc7dc.com/videoondemand.cfm?id=70242&ww=1.
About Wolf Trap Foundation for the Performing Arts
Wolf Trap Foundation for the Performing Arts, a 501(c)(3) nonprofit, founded by Catherine Filene Shouse (1896-1994), produces and presents a full range of performance and education programs in the Greater Washington area, as well as nationally and internationally. Wolf Trap features three performance venues, the outdoor Filene Center and Children's Theatre-in-the-Woods, both located at Wolf Trap National Park for the Performing Arts, and The Barns at Wolf Trap, located down the road from the park and adjacent to the Center for Education at Wolf Trap. The 7,028-seat Filene Center is operated in partnership with the National Park Service and annually showcases an extensive array of diverse artists, ranging from pop, country, folk, and blues to classical music, dance, and theatre, as well as multimedia presentations, from May through September. The Barns is operated by the Foundation year round, and during the summer months is home to the GRAMMY-nominated Wolf Trap Opera Company, one of America's outstanding resident ensemble programs for young opera singers. Wolf Trap's education programs include the nationally acclaimed Wolf Trap Institute for Early Learning Through the Arts, Children's Theatre-in-the-Woods, a diverse array of arts education classes, grants, and a nationally recognized internship program that was included in Bloomberg BusinessWeek's 2009 List of "Best Places to Intern." As part of its ongoing commitment to protect and preserve the environment, Wolf Trap offers metro access and is a founding member of the Green Music Group. Visit the Wolf Trap website at http://www.wolftrap.org for more information.
# # #