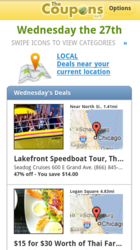 Love how it shows you the cheapest gas around your town.
Bloomingdale, IL (PRWEB) October 22, 2012
Halloween has become one of the most hotly anticipated holidays of the year. In 2011, almost 3 in 4 Americans dispensed candy spending $72.31 each. 1 in 3 planned to take their children door-to-door trick or treating. 50% said yard decor and pumpkin carving was on the list of Halloween spending raking retailers $26.52 per person overall.
This year, according to the National Retail Federation's 2012 Halloween consumer spending survey, a record 170 million plan to celebrate - an increase of almost 3% from 2011. Costume expenditures rise over 12 percentage points to $28.65, and overall Halloween spending is expected to approach $8.0 billion.
Consumer coupon usage is accelerating in popularity, while mobile coupon redemption leads the race at a breakneck pace. Paying full price post-recession has almost become taboo. With over 10 million downloads since 2008, The Coupons App is a leading free smartphone app available for the iPhone, iPad and Android that stretches those Halloween shopping dollars being spent. Coupons for costumes, holiday home decorating deals and everyday discounts sure to bring costs down at most retail locations both nationally and localized. Even people on the strictest budget can enjoy themselves this Halloween with help from The Coupons App.
The innovative app is very simple to use with coupons appearing on a user's mobile device that can then be scanned in any store. The coupons featured on the app even have bar codes so shoppers never have to worry about the coupons being denied. The coupons on the app are updated on a daily basis and are never outdated.
Those who have downloaded The Coupons App describe it with phrases like "I love the deals and discounts...no matter where you are" and "love how it shows you the cheapest gas around your town." Most just say, "This app is awesome!" After Halloween the developers of The Coupons App can expect many more to be saying that very same thing and saying it while wrapping those perfect Christmas gifts they bought using a Coupons App coupon.
ABOUT THE COUPONS APP
The Coupons App offers users coupons for their favorite stores, restaurants and gas stations. Since it was released in 2008, over 10 million smart device users have downloaded this useful app and are using the coupons offered on it at retail outlets both nationally and locally. The app offers real time coupons and daily deals, location-based gas price updates, a handy built-in barcode scanner, the ability to share coupons via texts and emails, a voice search option and much more. The Coupons App features coupons that are updated daily and is available for download to the iPhone, iPad and Android. Visit http://www.thecouponsapp.com