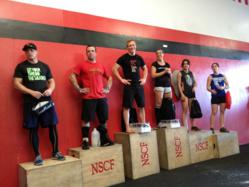 We're unique because we use friendship and support to get through the workouts, and the Northstate's Fittest competition was no exception
Chico, CA (PRWEB) October 24, 2012
North Rim CrossFit in Chico, California is pleased to announce that company owner Ryan Hignell was the first place winner in the men's division of the Northstate's Fittest competition held on Saturday, Oct. 13 in Redding, California.
The first annual Northstate's Fittest competition consisted of three scored events and a final qualifying event each designed as a CrossFit style workout. Forty men and 32 women competed. Eleven of the participants were from North Rim CrossFit in Chico. An example of one of the scored workouts was a 1000 meter hill run, 40 pull-ups, 30 alternating pistol squats, and 20 handstand push-ups. Based on their scores from the events, one male and one female were awarded as being Northern California's fittest.
"The competition was amazing, all the competitors were very friendly and Northstate's gym was very welcoming," said Natasha Hawkins, a Northstate's Fittest competitor and member of North Rim CrossFit in Chico. "I think my favorite part of the competition was watching our team from North Rim Crossfit really pull together and support each other in every event. I think all of us lost our voices cheering on the sidelines."
North Rim CrossFit Owner Ryan Hignell took first place in the men's division. Hignell has been participating in CrossFit style workouts for the last five years. He recently opened up his own gym offering CrossFit in Chico. He believes in following the CrossFit method of customizing workouts based on the health and ability of his clients.
"At North Rim CrossFit community is an important part of our methodology," Hignell said. "We're unique because we use friendship and support to get through the workouts, and the Northstate's Fittest competition was no exception."
To learn more about North Rim CrossFit in Chico or to try a class for free visit the website at http://www.northrimcrossfit.com or call 530-487-4374.
About North Rim CrossFit in Chico
North Rim CrossFit in Chico is committed to the total health of every person that comes through the doors and believes in the CrossFit way for anyone that desires a higher level of fitness in their life. Whether someone considers themselves a committed athlete or is just ready to be healthy again, North Rim CrossFit is dedicated to bringing the best training and technology to reach individual fitness goals.