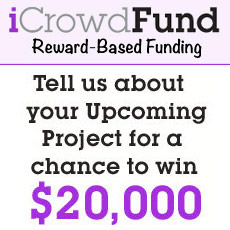 We believe that anyone with a solid idea should have timely and unfettered access to capital to help bring their new products and technologies to the marketplace.
Williston Park, NY (PRWEB) October 23, 2012
Where can tomorrow's inventors, entrepreneurs and start-up companies go to fund their innovative product and technology ideas? They can now look to iCrowdFund ("iCF"), an innovative new crowdfunding platform, which will connect those willing to invest in the future directly to those who will help shape it. iCF will foster the creation of symbiotic relationships between individuals and companies looking to raise money for exciting projects and forward-thinking individuals who want to help them succeed and make a difference.
"We believe that anyone with a solid idea should have timely and unfettered access to capital to help bring their new products and technologies to the marketplace. Equally as important is the ability to secure funding without the bureaucracy of Wall Street," said co-founder, Lloyd Groveman.
iCF will be the online destination where aspiration meets inspiration and dreams become realities - the site where that sketch on the back of a napkin can indeed become the next revolution in technology.
iCrowdFund differs from other crowdfunding sites and portals in the following ways:
1) iCF is helping to fund true entrepreneurs and emerging growth companies with reward-based funding, focusing primarily on the healthcare, technology, media and consumer sectors, as well as charitable organizations, current events and social & political causes.
2) iCF charges Zero commission fees for approved charities. This is a major departure from other funding sources.
3) If iCF loves a particular project submitted for funding, the site itself may choose to invest directly in the company or idea as well.
4) To help prospects launch and grow their projects, iCrowdFund is establishing an advisory board that can provide expert advice in all facets of business development. Far beyond initial funding, the board is designed to help encourage, support and guide budding entrepreneurs, innovators, and enterprises.
5) iCrowdFund combines the best of a social media company, e-commerce company and new product incubator with one steadfast commitment – helping to forge a path forward for new ideas and businesses.
$20,000 and 10 Free Apple iPads:
To demonstrate their commitment and celebrate the launch of iCrowdFund, the site has set up an online contest starting today. A $20,000 prize will be awarded to the company or individual that submits the best and most original new project/product idea for funding. In addition, up to 10 Apple iPads will be given away in a drawing that includes users who like iCrowdFund on Facebook. All projects entered in the contest will automatically be included for funding once the iCF site goes live.
Background and Mission:
iCrowdFund is striving to build a platform and audience distinct from other crowdfunding websites. It's principles describe themselves as refugees from corporate America's healthcare and financial industries, tired of the rhetoric and bureaucracy. "We want to encourage innovation and empower creative spirit, simplifying the process for everyone, not just the privileged, while simultaneously creating jobs," said co-founder, Eric Spar. iCrowd's mission is to provide access to capital and to help penetrate the world of Wall Street, private equity, and venture capital for anyone with a worthwhile idea.
For more information go to http://www.icrowdfund.com or email your questions to: info(at)icrowdfund(dot)com.