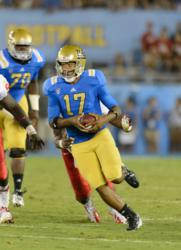 "Epilepsy has impacted my family and I am happy to do what I can to help the fight to end it."
Los Angeles, CA (PRWEB) October 23, 2012
UCLA's talented freshman quarterback, Brett Hundley, will be honored by the Epilepsy Foundation of Greater Los Angele s at the 2012 Walk to End Epilepsy and launch of the "Love Your Brain Now" Bus Tour for his outstanding efforts in raising awareness for the cause. He will walk on behalf of his sister, Paris, who has epilepsy. He will also be joined by hundreds of supporters -- including some teammates, the UCLA Spirit Squad and the UCLA Alumni Band.
Hundley will be recognized for his sibling advocacy during a ceremony at the Walk to End Epilepsy, which will take place at the Rose Bowl in Pasadena on October 28th from 8:00 AM to 12:00 PM.
"Epilepsy has impacted my family and I am happy to do what I can to help the fight to end it," said Hundley, who recently revealed in a Los Angeles Times interview that he plays for his sister, whose repeated seizures have landed their family in the hospital over 100 times.
With Hundley came an outpouring of support from UCLA Athletics, which also generously donated display advertising space at two Bruins football games and arranged for both the UCLA Spirit Squad and Alumni Band to cheer and play at the Walk.
"We are pleased to recognize Brett Hundley during the Walk and we thank him for stepping forward for the cause," said Shannon Abdulwahab, Walk Event Co-Chair and Trustee of the Epilepsy Foundation of Greater Los Angeles.
Besides supporting the epilepsy cause, Abdulwahab and her husband, Andy Meyers (UCLA All-American offensive lineman, 1993-1998), are also proud supporters of UCLA Athletics and the university as a whole.
"The Walk is a family-friendly community event that the Epilepsy Foundation of Greater Los Angeles hosts annually," said Susan Pietsch-Escueta, the Foundation's Executive Director. "The Walk provides a place for people to come together so we can ensure that no one fights this battle alone. We are stronger if we collectively fight to end epilepsy."
The Walk will feature a 5K Run/Walk and 1-Mile Stroll, live music performances, prizes, drawings, carnival games, face painting, specialty food trucks and more. The event will also launch California's first-ever "Love Your Brain Now" Bus Tour and debut a giant 3-D inflatable and interactive, walk-through model brain. Designed to help educate individuals on brain activity and brain safety, the colorful attraction provides interesting facts for the entire family. To register and get information about the Walk, visit WalktoEndEpilepsy.org
ABOUT EPILEPSY
Without warning, seizures can happen to anyone at any age. When a person has two or more unprovoked seizures, they have epilepsy. Seizures do not all look the same and, according to the International League Against Epilepsy, there are currently more than 25 different recognized epilepsy syndromes affecting almost 3 million people in the U.S. and about 65 million people worldwide. Someone is diagnosed with epilepsy every four minutes and, this year alone, almost 200,000 people in our country will be diagnosed. To date, there are no known cures.
ABOUT THE EPILEPSY FOUNDATION OF GREATER LOS ANGELES
Established in 1957 as a 501(c)3 charitable organization, the Epilepsy Foundation of Greater Los Angeles is leading the fight to END EPILEPSY® and the burden of seizures. Our fundraising and community efforts support care, advocacy and education, today, while investing in research and hope for tomorrow. Visit us online at ENDEPILEPSY.org.
###