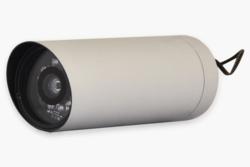 FrontPoint's line of wireless video cameras is only one of the many ways we have advanced security technology to help these customers access and customize their security
McLean, VA (PRWEB) October 24, 2012
FrontPoint Security, a nationwide leader in wireless home security, today announced availability of a new Wireless Outdoor Camera. This advanced video security device offers easy push-button wireless setup, night vision and image resolution up to 1280x800. With the Wireless Outdoor Camera, customers can spot trouble before it even gets to the door. This weather-resistant camera is perfect for video surveillance of exterior areas such as a home's backyard and driveway, or a business' entryway and parking lot.
With this product launch, FrontPoint advances their use of wireless technology to revolutionize the security industry. The new Wireless Outdoor Camera eliminates the need to install Ethernet cable outside – a complexity which previously restricted a user's ability to protect the external portions of their home or business. Using the 802.11n radio frequency, the camera provides fast, reliable, wireless connectivity and great range. With advanced weatherproofing, it functions in below-freezing temperatures, or up to 122°F. It also has a night vision range of forty feet.
The Wireless Outdoor Camera utilizes the user's home broadband service to enable live video monitoring from almost anywhere. Without venturing outdoors, users can see what's happening simply by viewing the live footage on their computer or smartphone. Whether at home or on the road, they can stay in visual touch with their property, any time of the day or night. The camera also generates a video clip when it detects motion. Customers can opt to receive these clips immediately on their smartphone, or can retrieve them from their FrontPoint web account whenever it's convenient.
"Our customers have learned the power of video in both their business and their personal lives," said Co-Founder and Senior Advisor, Peter Rogers. "FrontPoint's line of wireless video cameras is only one of the many ways we have advanced security technology to help these customers access and customize their security. With the ability to monitor your property inside and out, video surveillance takes peace of mind to a new level."
FrontPoint has been a pioneer since its inception, focused on improving security through technology. They offer comprehensive security solutions for homes and small businesses, including multiple options for video surveillance. With their advanced technology, FrontPoint simplifies customers' lives as well as increasing their safety. New features such as push-button setup and enhanced wireless range make FrontPoint cameras easier than ever to operate. Online accessibility, whether for live streaming video or motion-activated clips, provides a convenience that most other security providers simply can't match.
"By leveraging the power of the internet, FrontPoint enables our customers to stay in touch – and stay mobile," said Rogers. "Our user-friendly web portal is your gateway to interactive video monitoring. We understand the complexity of our customers' lives today, and will continue to enhance our product's value by simplifying setup and operation, while enriching the interactivity."
For more information on FrontPoint's camera solutions, visit http://www.frontpointsecurity.com/equipment/cameras/outdoor-wireless-camera.
About FrontPoint Security
FrontPoint Security is the leading nationwide provider of interactive, wireless home security systems. FrontPoint combines next generation technology with remarkable simplicity and commitment to service, resulting in a safer and unique customer experience. With customers in all 50 states and Canada, FrontPoint Security is one of the fastest growing alarm companies in North America. FrontPoint is a GE Security Authorized Dealer and Alarm.com's Preferred Dealer for no-hassle security solutions. For more information, please visit http://www.FrontPointSecurity.com or call 855.296.3945.
Media contact: Cassandra Dobkins, media(at)fpssi(dot)com