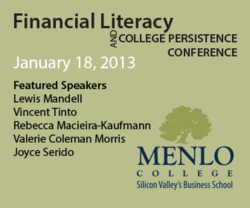 Leading researchers discuss the relationship between student financial understanding and college completion.
Atherton, CA (PRWEB) October 24, 2012
On January 18, 2013, Silicon Valley-based Menlo College and Citi Community Development will host leading educators and business professionals to identify the correlations that financial literacy programs and curricula have with college persistence and completion. This all-day conference is made possible by a generous contribution by Citi Community Development.
Discussions at the event will explore the factors contributing to college persistence and the potential impact of improved personal financial literacy on students; on the higher education arena; and society.
Academics are encouraged to submit original work.
View the Call for Papers and register for the conference on the Financial Literacy and College Persistence Conference website:
http://www.menlo.edu/financial-literacy
Featured Speakers include:

Rebecca Macieira-Kaufmann, President of Citibank California
Lewis Mandell, SUNY Buffalo Emeritus
Valerie Coleman Morris, Journalist/Author
Joyce Serido, University of Arizona
Vincent Tinto, Syracuse University
The moderator will be Arthurlene Towner, Emerita of California State University, East Bay. Donna Little, Associate Professor at Menlo College, will present on personal financial literacy program research.
ABOUT CITI COMMUNITY DEVELOPMENT
Citi Community Development (CCD) is leading Citi's commitment to achieve economic empowerment and growth for underserved individuals, families and communities by expanding access to financial products and services, and building sustainable business solutions and innovative partnerships. Our focus areas include: commercial and philanthropic funding; innovative financial products and services; and collaborations with institutions that expand access to financial products and services for low-income and underserved communities. For more information, visit http://www.citicommunitydevelopment.com.
ABOUT MENLO COLLEGE
Menlo College, Silicon Valley's Business School, was established in 1927 and is located 30 minutes south of San Francisco. It is a private, four-year, accredited, residential business college located in Atherton, California. http://www.menlo.edu