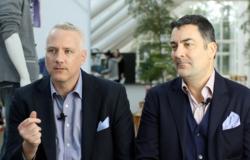 StoreForce has revolutionised the business. Shawn Cox, Senior VP Global Retail
Hove, England (PRWEB UK) 23 October 2012
StoreForce, a leading provider of Performance Management Workforce Management and Business Intelligence designed specifically for the Specialty Retail Marketplace, today announce the release of a video case-study created in partnership with MEXX.
Shawn Cox, Senior VP Global Retail says "StoreForce has given MEXX a competitive advantage". Talking openly and honestly about their experiences during the 8 minute video, Cox and Diemoz discuss their goal of creating a performance driven mindset, and a culture of accountability. Cox continues "It's revolutionised the business".
Chris Noble, Director of StoreForce in the UK says "We are thrilled by the success MEXX have had with our solution. The revolution that MEXX have experienced is a common theme with our customers, who are all passionate about getting the execution right in their stores".
Private equity firm The GORES Group bought a majority stake in MEXX in 2011. Doug Diemoz, President and Chief Transformation Officer says "MEXX aims to be one of the greatest comeback stories in retail history and StoreForce is a big partner in that comeback".
Diemoz continues "StoreForce gives us the ability to ensure that we follow up and deliver on expectations, I see it as the heart that drives it all"
The Video can be seen on the StoreForce Website at the following URL:
http://www.storeforcesolutions.com/news/
MEXX is a truly global brand, founded in 1986 they create fashion that is inspired by life in the city. MEXX operate in 55 countries and are based in Amsterdam.
StoreForce is an intuitive retail solution that provides simple tools allowing real time visibility of performance to target, alignment of staff to store traffic, and the sharing of actionable knowledge throughout the organization to deliver a single version of the truth. More information is available at: http://www.storeforcesolutions.com or by emailing at getintouch(at)storeforcesolutions(dot)com