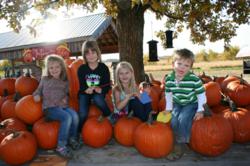 Executive director Richard Polipnick commented that"Taking time to relax and enjoy nature before the rush of the holiday season is part of life here in northern Minnesota.
Brainerd, MN (PRWEB) October 24, 2012
Autumn in Minnesota signals a season of relaxation and fun activities for the entire family. After the rush of summer and before the busy holiday season begins, the Brainerd Lakes area has much to offer in the way of authentic Minnesota vacations. The Visit Brainerd web site is an excellent resource for selecting activities based on individual interests. The timely events calendar offers many selections from which to create a perfect vacation.
It is no secret that kids love Halloween and there are several opportunities for families to get out and create some haunting memories. Mid-October brings the little ghosts and goblins out to visit A Maze-N-Pumpkinz where visitors will find a 5 1/2 acre Main Maze, Mini Maze, Bouncing, Corn Box, Petting Zoo, and Arts & Crafts Table. Try chunkin' some pumpkins or take a hayride while there. The Farm on St. Mathias offers a giant Corn Maze with slides and bridges, petting zoo and more. Another offering is the Haunted Trail at the Northland Arboretum in Baxter. The Haunted Trail leads visitors through dark woods on winding trails. Ghosts, spooks and creepy goblins haunt the entire trail and no flashlights are allowed! At the end of the trail visitors are invited to enjoy a bonfire and hot cider. Beginning October 19th,Terror Town, the Haunted Manor and the Haunted Corn Maze will be open at Paul Bunyanland to scare the "yell" out of guests.
The sunny days and crisp evenings of fall are perfect for participating in a variety of outdoor activities. Fishing any of the hundreds of area lakes at this time of year is sure to provide a thrill as fish become more active and are hungrier for the bait. Hunting seasons for small game and birds is now open and the deer hunting season begins in early November. The Brainerd/Baxter area is surrounded by thousands of acres of public lands and trails which provide ample opportunities to hike, bike, hunt, bird watch or simply appreciate what nature has to offer at this transitional time of year.
Executive Director Richard Polipnik of the Visit Brainerd lodging association commented that, "Taking time to relax and enjoy nature before the rush of the holiday season is part of life here in northern Minnesota. Residents and vacationers relish in the change of seasons. For the outdoors enthusiast, it is the perfect time of year to visit, with crowds at a minimum, cooler temps and beautiful fall scenery, while those who prefer indoor activities are pleased to find a wide array of excellent restaurants, live entertainment and theatrical performances to choose from."
Another fun pre-holiday event is the huge Holiday Arts and Crafts festival held at the Brainerd High School on November 10th. Over 150 vendors fill the open spaces throughout the school with quality hand crafted items, perfect timing to get a jump on some holiday shopping.
With the Brainerd - Baxter area centrally located in the heart of Minnesota, getting here is an easy drive of a couple of hours from the Twin Cities. A regional airport also serves the area with several daily flights in and out of Brainerd.
In addition to the events calendar which provides very detailed information on what is happening locally, those wishing to visit the area can check for "Hot Deals" and current specials being offered by area lodging, shopping and dining establishments at the VisitBrainerd.com website. "A phone call to Visit Brainerd headquarters at 218-825-0410 or 800-450-7047 will connect callers directly to someone with intimate knowledge of the community and the offerings of a bountiful northern Minnesota vacation. While visiting the website, be sure to sign up to receive our newsletter to stay up to date on the latest news from the lakes area."
"Visit Brainerd" is an association made up of eleven lodging properties located within the Brainerd/Baxter area. Member properties are: Arrowwood Lodge and Paul Bunyan Water Park, Country Inn and Suites, Comfort Suites and Rapid River Indoor Water Park, Holiday Inn Express Three Bear Lodge and Water Park, Roadway Inn, America's Best Value Inn, Super 8 Motel, AmericInn Lodge and Suites, Crossings Inn and Suites and the Brainerd Hotel and Conference Center. (Also a member, the Lum Park RV Park is closed during the winter months.)