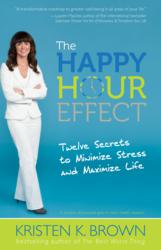 Life can get pretty stressful, but it doesn't have to be. The Happy Hour Effect book can help.
Minneapolis, MN (PRWEB) October 23, 2012
Bestselling author, widow mom, and certified holistic health counselor, Kristen K. Brown, hits the virtual road with her new book, "The Happy Hour Effect: 12 Secrets to Minimize Stress and Maximize Life" (Goodman Beck, November 2012).
On Mondays, Wednesdays and Fridays from Oct. 22 – Nov. 30, Brown and her book will "appear" on 18 top family, wellness, and book review blogs including CafeMom, Finding Joy and many others to answer questions, and share exclusive articles and book excerpts. Readers will have the chance to win signed copies, classes and training sessions on each of the blogs. Kristen will also be giving away a $500 Stress Less Prize Pack on her Facebook page.
"The blogs on our tour reach people who are looking to have it all in life – a happy home; a successful career; a healthy, fit lifestyle; and time to pursue their goals and dreams. Life can get pretty stressful, but it doesn't have to be. I know my book can help," said Brown. "I am grateful to the talented bloggers who have agreed to share my message."
Virtual Book Tour Line-up
Oct. 22 Happy Healthy Hip (happyhealthyhip.com)
Oct. 24 Coupons In Motion (couponsim.com)
Oct. 26 philZENdia (philzendia.com)
Oct. 29 Kids Running Wild (kidsrunningwild.net)
Oct. 31 Optimistic Mommy (optimisticmommy.com)
Nov. 2 Desperately Seeking Sanity (desperatelyseekingsanity.com)
Nov. 5 Happy, Healthy Mom (happyandhealthymom.com)
Nov. 7 17 Sirens (17sirens.com)
Nov. 9 Finding Joy (rachelmartin.blogspot.com)
Nov. 12 Book Launch Day! – Momma Said (mommasaid.net)
Nov. 14 Book Zone (bookzone.atwc1.com)
Nov. 16 CafeMom (cafemom.com)
Nov. 19 A Design So Vast (adesignsovast.com)
Nov. 21 Ivy League Insecurities (ivyleagueinsecurities.com)
Nov. 23 The Stressed Mom (thestressedmom.com)
Nov. 26 Motherese Blog (mothereseblog.com)
Nov. 28 Life With Levi (lifewithlevi.com)
Nov. 30 My Little Review Corner (mylittlereviewcorner.wordpress.com)
A virtual book tour is similar to a traditional book signing tour, but instead of traveling bookstore to bookstore, the author goes blog to blog. Rather than live appearances, the author is represented through a combination of the following: book review; guest post; book excerpt; author Q&A; artwork; trailer; prize giveaways, etc.
About Kristen K. Brown and Happy Hour Effect LLC:
Kristen K. Brown is The Queen of Stress Relief, certified holistic health counselor, widow mom, award-winning entrepreneur and bestselling author of The Best Worst Thing. She is the founder of Happy Hour Effect LLC, a stress management company that helps people to minimize stress and maximize life. She started WidowMommy.com after her healthy, 30-year-old husband died of a heart attack when their daughter was just a baby. She is a professional speaker with a webTV show and has been featured in the media across the country on TV, radio, print and online. She works with individuals, corporations and celebs to discover the path to elevated work/life harmony. Her next book, The Happy Hour Effect: 12 Secrets to Minimize Stress and Maximize Life, is available November 2012 from Goodman Beck Publishing. Learn more at: http://www.HappyHourEffect.com.
About Hedges Virtual Book Tours:
Hedges Virtual Book Tours specializes in planning and executing targeted blog tours for non-fiction and literary fiction titles. For more information, go to http://www.hedgesvirtualbooktours.com or call Emily Hedges at (952) 200-4402.