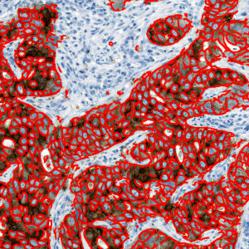 Hørsholm, Denmark (PRWEB) October 25, 2012
Visiopharm a leading provider of Quantitative Digital Pathology solutions and MetaSystems, a leading provider of automated scanning and image analysis solutions for cytogenetics, cancer genetics, toxicology, and pathology, announce today a worldwide non-exclusive distribution agreement for Visiopharm's digital pathology software VisiomorphDP™, TissuemorphDP™, and Application Protocol Packages (APPs) from Visiopharm's APPCenter; available as a deployed solution or within the Cloud.
MetaSystems is well known for their fast, easy-to-use genetic imaging and high-throughput slide scanning platform Metafer which automates a wide range of cell analysis assays. The Metafer platform was recently expanded to offer VSlide, a high-throughput brightfield and fluorescence whole slide imaging solution.
VSlide, combined with Visiopharm's comprehensive quantitative digital pathology solutions, will provide MetaSystems customers with efficient tools for extracting morphometric data from whole slide images. VSlide is available today for new customers and as an upgrade option for current Metafer customers.
Andreas Plesch, Ph.D., Managing Director of MetaSystems, stated "We are very enthusiastic about this strategic partnership with Visiopharm. Visiopharm is committed to designing image analysis solutions that will reduce costs and manual labor, increase throughput, standardize data, and ultimately provide knowledge of critical importance to individuals who work in drug development, research, and diagnostics. This commitment is very well aligned with MetaSystems and our innovative imaging solutions."
Michael Grunkin PhD, CEO of Visiopharm, stated "We are very impressed with MetaSystems and their successful history and reputation within the clinical and research imaging market. This partnership will further expand the availability of Visiopharm's solutions worldwide, and will provide MetaSystems customers with a robust solution for digital pathology."
MetaSystems and Visiopharm will both be exhibiting at Pathology Visions 2012 on October 28-31, 2012 in Baltimore, MD. Please visit MetaSystems at booth # 28 and Visiopharm at booth #26 & #27 to learn more about their products and this partnership.
About Visiopharm
Over the past 10 years, Visiopharm image analysis and stereology software has become the preferred Quantitative Digital Pathology solution for leading biopharmaceutical companies, clinical researchers, and academic researchers all over the world. Visiopharm has more than 300 deployed systems worldwide and a large network of distribution and support partners, and is featured in over 400 scientific publications.
About MetaSystems International
MetaSystems is an employee-owned German company specializing in automated scanning and image analysis for cytogenetics, cancer genetics, toxicology, pathology, forensic sciences and other applications. A comprehensive range of DNA probe kits complements the product portfolio. MetaSystems is based on more than 25 years of experience in image analysis, automated microscopy, and hard- and software technology. Today, more than 1,500 laboratories in 71 countries rely on the quality and stability of MetaSystems' products.