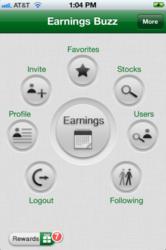 AhaApps team has a great ability to think beyond the obvious and come up with creative solutions for unique challenges.
Washington DC (PRWEB) October 24, 2012
AhaApps was awarded the "Best of the Best" designation for excellence by Follow Media Consulting, Inc. in the category of Earnings Calendar and Apple Earnings Apps. They can be reached at (804) 366-9979. This award signifies the continued commitment and dedication of the areas best in customer service and mobile application.
AhaApps is a mobile application development company for smart devices such as iPhone, iPad, Android. They focus on providing deep value to their customers whether they are Enterprises or consumers. Their apps such as EarningsBuzz and ZatStats are catered towards consumers and NavTech is for Enterprises that rely on ERP systems. They also build mobile apps that interface with Salesforce. Their specialty includes Earnings Calendar apps.
Their first app idea came from making international calls using Vonage's® extremely useful call forwarding service. Therefore they created an app to use call forwarding through iPhone and Android apps, then created an app for sending text messages abroad through 160by2.com. Both these app ideas were "Aha" moments and hence they call their company AhaApps.
Named a best SEO company by Jonas Marketing, Follow Media Consulting, Inc. is a rapidly growing worldwide firm of SEO, Social Media, and Mobile Marketing Professionals. Follow Media Consulting, Inc. headquarters is located in Richmond, VA. However, our professional team is networked across the world, with regional offices across the United States, in the United Kingdom, Canada, Australia, France, South Africa, the Philippines, and India.