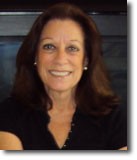 Joining the Cayenne team affords me a terrific opportunity to share my professional expertise with their diverse and expanding clientele.
Anaheim Hills, CA (PRWEB) October 24, 2012
Cayenne Consulting LLC, a leading provider of business plans, pitch decks, and related consulting services for entrepreneurs, has announced the appointment of Joan L. Morgen as a new Principal Consultant in Cayenne's Phoenix/Scottsdale branch.
Joan Morgen (MBA/BA) has an extensive background in investment banking, asset management, business development, marketing, strategic planning and investor relations. Prior to her relocation to Arizona, she enjoyed a career spanning over two decades on Wall Street where she advised, raised funding for, and invested in start-ups, emerging growth ventures, and public companies.
In 2002, Ms. Morgen founded JLM Consulting. She is a hands-on, strategic management executive who leads collaboratively across disciplines to advance the corporate growth objectives of start-ups and small- to mid-sized companies. Joan advises C-level managements in the identification and pursuit of growth opportunities through sound, disciplined planning, resource optimization, and strategy.
Since moving to Arizona, Ms. Morgen has been committed to advancing and supporting entrepreneurship and innovation throughout the community. She has been a member on various committees within the business and academic communities, and currently serves on the mentor team for the Center for Entrepreneurial Innovation.
"Joan is a dynamic and experienced advisor with a proven track record in industries spanning technology, consumer electronics, B2C Internet, healthcare, medical devices, and restaurants," said Akira Hirai, CEO and founder of Cayenne Consulting. "She is a welcome addition to our team and I look forward to watching our clients benefit from her expertise."
Ms. Morgan added: "I have been committed to advancing the immediate and long-term goals of companies in various stages of growth across several industries. Joining the Cayenne team affords me a terrific opportunity to share my professional expertise with their diverse and expanding clientele."
Cayenne Consulting, headquartered in Anaheim Hills, California, was founded in 2001. Cayenne offers business plan consulting services to entrepreneurs preparing to raise capital. The firm's products and services include executive summaries, pitch decks, financial forecasts, strategic planning, market & competitor research & analysis, valuation services, turnaround consulting, and exit planning services. Cayenne has served clients in over 40 states and 35 countries, in industries as diverse as biotechnology, mobile software, social networking, telecommunications, real estate, retail, food service, financial services, manufacturing, media & entertainment, consumer products, education, and clean technologies. For details, please visit http://www.caycon.com.