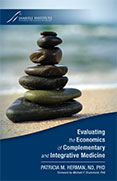 Alexandria, VA (PRWEB) October 23, 2012
Samueli Institute and Patricia Herman, ND, PhD, today released a book aimed at helping researchers apply proper economic methods to the evaluation of complementary and integrative medicine (CIM). The book, Evaluating the Economics of Complementary and Integrative Medicine, can also help medical practitioners, hospital administrators, policy makers, and others understand the basics, uses and limitations of economic evaluation for health care in general and CIM in particular.
"Sharing research like this is essential for health care reform. It's evident that lowering the cost of health care while simultaneously increasing the level of care is the way forward," said Wayne B. Jonas, MD, President and CEO of Samueli Institute. "Integrative health care practices have a role to play in moving health care in the right direction."
The book parallels a study published in September 2012, in the British Medical Journal Open Access (BMJ Open). That study, written by Dr. Herman, summarizes what is known about the cost-effectiveness of CIM in the health care system. The study is a comprehensive systematic review of 338 economic evaluations published between 1979 and 2012 that report on the costs and effectiveness of CIM. Of the 56 comparisons made in the higher quality studies, 16 (29 percent) were cost saving, a higher percentage than found in reviews of conventional medicine. The cost saving studies included tai chi to prevent hip fractures, manual therapy for neck pain and acupuncture during pregnancy.
"The study uncovers both financially responsible and clinically effective CIM therapies," Dr. Herman, Senior Behavior Scientist in the Health Division of the RAND Corporation and Senior Fellow at Samueli Institute, said. "In an era of rapidly rising health care costs we need more high-quality CIM studies that consider economics to guide policies about these treatments."
With at least a third of U.S. adults using complementary and alternative treatment, this important research helps guide health policy by uncovering new ways to lower costs within the health care system. Evaluating the Economics of Complementary and Integrative Medicine is available for purchase at Amazon.com. More information is available at http://www.SamueliInstitute.org.
###
About Samueli Institute
Samueli Institute is a non-profit 501(c)(3) research organization supporting the scientific investigation of healing processes and their role in medicine and health care. Founded in 2001, the Institute is advancing the science of healing worldwide. Samueli Institute's research domains include integrative medicine, optimal healing environments, the role of the mind in healing, behavioral medicine, health care policy, and military and veterans' health care. Our mission is to transform health care through the scientific exploration of healing. More information can be found at SamueliInstitute.org.