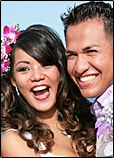 Waikiki, HI (PRWEB) October 23, 2012
A recent Maui'd Forever study reveals destination weddings in the Hawaiian Islands hold steady in tough economic times. Their study compares weddings done in 2003 versus those done in 2012.
The number of people going to Hawaii to get married is relatively the same as it was 10 years ago. Although the quantity is the same, the amount these people spend is down dramatically. The average spend is down nearly 17%. The other important information this study shows is where these couples travel from.
They found that the majority of wedding couples still hail from the West Coast but that majority is losing ground.. The East coast and Mid-West areas have shown the greatest amount of growth.
In 2003 when the wedding planning firm Maui'd Forever began their business the average spend on a destination wedding was over $2400. In 2012 that number is under $2000 per wedding. These statistics were derived from the 300-400 weddings performed each year by Maui'd Forever.
National statistics for destination weddings include the fact that 16 percent of marriages taking place in the United States are destination weddings. That 9 out of 10 couples say weather is a key factor in selecting a destination. Their familiarity with the location also plays a key factor. Many have visited their destination wedding location in the past. Many others are escaping colder climates.
The numbers of weddings done annually for the top markets are as follows:
1. Las Vegas (125,000)
2. Hawaii (20,000)
3. U.S. Virgin Islands (5,100)
4. Jamaica (5,000)
5. Bahamas (4,000)
6. Mexico and Florida are next
The destination wedding market accounts for $16 billion in annual spending. The average budget for a destination wedding is $20,600. 60% of destination couples pay for the wedding themselves and they are slightly older at 33 versus the average in the USA of age 28. They are better educated and make more money as 70% have graduated college and the average household income is $110,000.
The average number of guests at a destination wedding: 48. These guests spend an average of $400 each to attend. Most of these guests are family members.
The interesting find in their study is that in Hawaii their are many fewer guests attending than the average. Although exact numbers attending each wedding were not kept, an estimate was given to each wedding and the mean average came to 14 guests per wedding. The amount being spent on their Hawaiian wedding is also much less. The average spend on a wedding in Hawaii is under $2,000 for the wedding itself.
Mark Steffan, President of one of Hawaii's largest wedding planner firms, Maui'd Forever says, "Most of our weddings are people from the West coast of the USA and Canada although other areas are trending higher. Many of our couples are traveling alone and eloping. We credit this to a tough economy and the fact that many of the marriages are for a second or third time. These couples have done the big wedding prior and are just looking for something simple and sweet. We are also getting more and more Vow Renewal requests."
Maui'd Forever shows that in 2003 74% of their business came from the West coast of the United States. In 2012 that number has dropped to 60%. Mr. Steffan says "The numbers have certainly increased for those coming from someplace other that the West coast. My dealings with these visitors is that they have not traveled to Hawaii before and their destination wedding is a great excuse to go somewhere new".
SOURCES
Association of Bridal Consultants
Bridal Guide
Condé Nast Bridal Group "2009 American Wedding Study"
Destination Weddings & Honeymoons magazine
Fairchild Bridal Infobank
About.com
National Bridal Service
National Center for Health Statistics
Travel Industry Association of America
U.S. Census Bureau