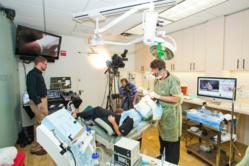 Boca Raton, Florida (PRWEB) October 23, 2012
He's got swag, he's got style, and according to the promo material on Clear Channel's website for the radio show he fronts, Real Radio's 94.3 "The Penthouse," he "parties like a rock star on South Beach and Manhattan," but what he ain't got he's about to get from Dr. Alan J. Bauman, internationally famous hair transplant doctor, and that's two days of hair transplant surgery starting on Monday, October 29th and Tuesday, October 30th. He goes by "Greek" and his dedicated base of South Florida radio fans follow him daily from 10 AM to 2 PM, where Greek breaks down the "worlds of entertainment and sports and teaches you how to date and even keep a Las Vegas show girl."
And while he definitely runs in celebrity circles and can be seen courtside from Miami to New York and Las Vegas laying down the "odds" during his Saturday radio show, "The Locker Room" what Greek's missing in his fast-paced, high profile, livin'-large-lifestyle is just one thing, a fuller head of hair. And all that is about to change when Greek hits Dr. Bauman's surgical operatory where he'll receive more than 3,000 individually placed hair grafts from Dr. Bauman, who is recognized as one of the world's top medical experts on hair loss.
"This is the most sophisticated procedure being performed by one of the world's best hair transplant doctors, Dr. Bauman is the only guy I'd let do anything like this on me," says Greek, who has been one of South Florida's leading radio personalities since 2003.
Kevin Rolston of the "KVJ" Radio Show Went First, now it's Greek's Turn:
Dr. Bauman and his team performed a NeoGraft FUE hair transplant procedure on one of Greek's radio colleagues, Kevin Rolston, an on air-personality on one of Clear Channel's sister station's, WILD 95.5. In July, Rolston, the ringleader of the "Kevin, Virginia, Jason" morning show, met Dr. Bauman in his Boca Raton based operatory where his minimally-invasive hair transplant procedure was broadcast live via the internet to a global audience of nearly 75,000 people in 22 countries and was simultaneously streamed on the radio station's website for Kevin's fans to watch. Rolston made national headlines in the radio industry as the first radio personality to get a hair transplant procedure live simultaneously on the air and streaming on the Internet.
"I followed Kevin's procedure very closely," says Greek. "I know Kevin had been talking about getting a hair transplant for 13 years, and then he finally went and did it." Greek, known as a great odds maker and one of the nation's best-known college football handicappers thought he'd hedge his own bet as well as his anxieties about any such procedure watching Rolston go through the process. "Kevin raved about Dr. Bauman's artistry and the no linear scar NeoGraft technique," says Greek, "he said it was painless and he was back at work on air the very next day, to me that is a great endorsement and that's why I decided to do it."
About Dr. Bauman and Bauman Medical Group:
Dr. Alan J. Bauman is a surgically trained M.D. and one of only approximately 100 board-certified hair restoration physicians in the world. He is a Diplomate of the esteemed American Board of Hair Restoration Surgery, a member of the American Academy of Cosmetic Surgery and is one of 50 doctors worldwide who is recommended by the American Hair Loss Association. He has built an international practice, treated nearly 15,000 hair loss patients since 1997, and has been extensively featured in the world's leading media in print, radio and television as a medical expert and successful early-adopter of the most advanced technologies in the treatment of hair loss. Appearances, interviews and profiles include the Today Show, The Early Show, Good Morning America, Extra, Access Hollywood and Dateline NBC among other TV appearances. Newspaper and Magazine articles and feature stories include The New York Times, Newsweek, Cosmo, Vogue, Allure, and Men's Health among others.
No stranger to live hair transplant surgery webcasts, in 2009 Dr. Alan J. Bauman performed the first Live Hair Transplant using the no-scalpel, no-stitch NeoGraft/FUE harvesting device and also the first Live Hair Transplant on YouTube/Live, the online on-demand video giant's live web-streaming platform which drew over 70,000 viewers.
"Live Hair on the Air" – A Half Hour Radio Show by Dr. Alan J. Bauman & Kevin Rolston:
Dr. Bauman hosts has a half-hour radio show on hair loss that can be heard on three Clear-Channel radio stations in South Florida, and is co-hosted by one of South Florida's leading morning radio personalities, Kevin Rolston of the Kevin, Virgina, Jason Morning Show," WILD 95.5, FM. The show, best described as an old-fashioned radio variety show, is as informative as it is entertaining.
Not just packed with traditional talking-head jibber-jabber, "Live Hair on the Air" oozes the great energy of the witty, sarcastic and self-effacing good humor of Kevin Rolston, the newest member of Dr. Bauman's "Follicle Fan Club" as a recent hair transplant recipient, combined with the even-keeled, good-natured and engaging personality of Dr. Bauman, one of the nation's top hair transplant surgeons. Throw in comedy clip cut-aways from across the internet, YouTube and television, sprinkle in original musical song parodies and hair loss suffers will find a unique mix of comic relief as well as medical and non-medical remedies to meet the wide range of follicular challenges faced by nearly 100 million men and women. Visit the website, listen to present and archived shows: http://www.LiveHair.TV