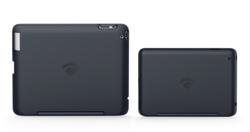 ClamCase for iPad Mini brings big things to a small package.
Hollywood, CA (PRWEB) October 23, 2012
ClamCase® today announced the ClamCase iPad mini keyboard case, the most portable and compact ClamCase yet. The thinnest and lightest model in the ClamCase product line was designed to keep big things in a small package. The ClamCase iPad mini keyboard case offers a fresh new look with an affordable price tag suitable for just about everyone.
The ClamCase iPad mini keyboard case offers all of the same incredible features of the PC Mag Editors' Choice Award winning original ClamCase. The patent-pending 360-degree hinge makes the transition from a laptop to a gorgeous reader a simple one and allows for infinite viewing angles. The hard polycarbonate plastic shell completely encloses the iPad offering unmatched protection. The iPad's on-screen keyboard occupies nearly half its display and the new mini version makes screen real estate more important than ever. The ClamCase iPad mini keyboard case helps take that space back.
ClamCase, when paired with the new iPad mini, offers the most affordable and portable Mac-laptop experience on the market. The ClamCase replaces the awkward and small on-screen keyboard interface with the tactile and responsive Apple-style keyboard. ClamCase iPad mini keyboard case will be available early 2013. Signup to receive additional information regarding pricing, product specs, availability and the upcoming pre-order date.
ClamCase, a consumer electronics design company based in Hollywood, California, manufactures and distributes the world's best tablet keyboard cases and peripheral devices. ClamCase products are in high demand worldwide for their desirable features and ability to enhance FaceTime®, Facebook®, YouTube®, Netflix®, iMessage®, online gaming, endless apps, and certainly web-browsing. In addition to the growing popularity with professionals, educational institutes, and other organizations, ClamCase products are used to protect the iPad investment, while greatly increasing its mobility, efficiency and productivity.
Information on the ClamCase® iPad mini keyboard case is available at the ClamCase online store at ClamCase.com For more information on the latest releases, or to view the entire lineup of ClamCase products please visit ClamCase.com or call 800-939-0335 to speak with a customer support representative.