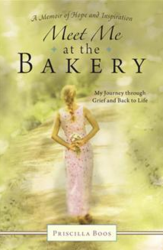 Life is different now, but that doesn't mean it's bad. I see my life like an ice cream sundae. It has all come together; it is very sweet, enjoyable and fulfilling.
Katy, TX (PRWEB) October 24, 2012
Grief specialist Priscilla Boos has endured the shackles of grief and profound loss but managed to discover that life can be enjoyable again. Her new book, "Meet Me at the Bakery", offers ways for readers to gain a better understanding of how to deal with unexpected grief.
A heartfelt story, Meet Me at the Bakery explores real raw emotions – such as anger, sadness and anguishing pain – while it's also uplifting, positive, inspiring and even funny. Boos' easy, enjoyable read is relatable to anyone who has ever experienced loss of any kind.
As a certified grief recovery specialist, Boos has devoted her life to helping those who were once in her shoes. She also touches on the personal journey of illness, knowledge of inevitable death and recovery from losing a husband of 39 years.