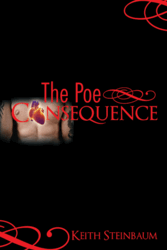 Exploring both the darkness and hope that define our emotions, The Poe Consequence integrates social and ethnic divisions through acts of fate and supernatural horror ...
Los Angeles, Calif. (PRWEB) October 23, 2012
Just in time for Halloween, "The Poe Consequence" (published by Abbott Press), the debut novel by award-winning poet and lyricist Keith Steinbaum, sees urban fiction take a twisted detour into the supernatural realm of Edgar Allan Poe.
Steinbaum, a longtime Los Angeles resident, has worked in some of the city's most blighted areas. He puts his local knowledge to use as he weaves a tale of gangland rivals forced to find common ground in order to combat an otherworldly force hell-bent on avenging a wrongful death – and protecting the life of a child from possible harm.
An intricately plotted, multi-faceted narrative pulses at the heart of "The Poe Consequence." Evoking pop-culture touchstones such as "Crash" and "The Bonfire of the Vanities," the book's diverse cast of characters from widely differing social backgrounds find their lives intersecting in unexpected ways – with shocking results.
Delving into profound subjects such as racism and alcoholism, "Poe" also utilizes the controversial topic of psychic prophecy and fortune telling as the story opens with a chilling scene at a tarot-card reader's shop in New Orleans.
Earlier this year, the major motion picture "The Raven" demonstrated the enduring influence and appeal of literature's dark mastermind. Also drawing inspiration from Leon Bing's book "Do Or Die" – about L.A.'s infamous Bloods and Crips gangs – Steinbaum's novel represents a unique addition to the sub-genre of horror and suspense that has sprung up around Poe's haunting stories and poems.
"I've always found the ancient Arab philosophy of 'the enemy of my enemy is my friend' to be a fascinating concept, whether it involves countries or a smaller group of people such as gangs," says Steinbaum, "because it requires the reconciliation of rivals for the mutual goal of survival. As for Poe, it's something that came to me as I was outlining my story and trying to figure out the appropriate vehicle for supernatural destruction that could induce the ultimate fear in both gangs."
Abbott Press, a division Writer's Digest—the oldest and most respected publisher devoted to the education and advancement of writers—is an indie-publishing imprint dedicated to helping writers bring their literary vision to print. Author Solutions Inc., a leader in indie book publishing, will fulfill publishing, sales, and marketing services for Abbott Press. For more information, or to begin publishing a book today, log on to abbottpress.com or call 866-697-5310.