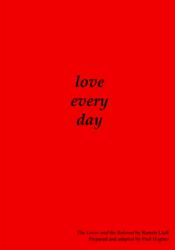 Long Beach, CA (PRWEB) October 23, 2012
When the legendary Irish rockers U2 sang of One Love—
"You act like you never had love. And you want me to go without"
— or —
"Love is a temple. Love the higher law. You ask me to enter, But then you make me crawl."
—did it have aught to do with what near-legendary Pastor Tim Keller said—
"Our sinfulness is far worse than we could imagine, and God's love is far greater than we ever dared hope"
—perhaps?
Did they mean what Christians have meant for millennia—
"Love God with all your heart, soul, mind, and strength, and love your neighbor as yourself."
—maybe?
To reach the depths and heights — as Dante knew in The Divine Comedy, you have to go all the way down to the depths of hell, before you can rise all the way up to the heights of heaven.
What about Frederick Buechner's comment—
"The first stage is to believe that there is only one kind of love. The middle stage is to believe that there are many kinds of love and that the Greeks had a different word for each one of them.
The last stage is to believe there is only one kind of love."
—how does that fit in?
It's all a new book by Paul Hughes, love every day, that may offer, well, part of an answer to this question. It's all about love — and just as the title says, it can be had… every day.
The book is based on centuries old wisdom — five centuries to be exact — and the hard work of faith. The Spanish writer Ramón Llull, some 500 years ago, set down his vision of the journey of love. Now for the 21st century, the American writer Paul Hughes has reworked Llull's words to make it available again, today. And by setting it in the first person, the book also helps people connect more directly to the goal: love.
The basic idea of the original book — one person's journey through the hardships of love for God and others — is the same. Single thoughts are short — suitable for a quick read at any time of day — but packing a powerful punch — and you might dwell on it for days.
The 365 entries make it a great daily devotional through one year. And Tuesday October 23 through Wednesday October 24th, it is free on Amazon's Kindle platform.
And don't forget U2—
"One life — But we're not the same. We get to carry each other … carry each other."
—well …
Check it out at: http://www.amazon.com/Love-Every-Day-ebook/dp/B009IBQURY/