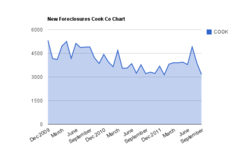 (PRWEB) October 23, 2012
According to stats compiled by ILFLS.com, the Illinois Foreclosure Listing Service, there has been a decreasing trend Chicagoland foreclosures with a -20.04% decrease in total foreclosures From August to September. Decreasing numbers were compiled ranging from -12.55 to a -29.51% decrease in foreclosure filings among Chicago area counties for September 2012 in the following seven counties: Cook, DuPage, Kane, Kendall, Lake, McHenry, and Will. Foreclosures have decreased in every Chicago land county compared to the previous month, August 2012. There is also a slight decrease compared to last year, September 2011.
The total number of home foreclosure filings for the seven counties for August 2012 was 6,393. The total for September was 5,112. This is a major decrease of -20.04% compared to last month. The largest decreases from August to September were seen in Lake, Kendall, and Will Counties.
The largest decrease was seen in Lake County going from 576 foreclosure filings in August and decreasing over -29.51% to 406 in September. Compared to four years ago, the average home values in Lake County are down roughly 25%+. This average is worse when compared with the rest fo the nation. Other states and areas saw the plunge earlier, and therefore recovered earlier. The number of foreclosed properties in Kendall County also decreased largely. In Kendall County, the number of foreclosures decreased -24.26%, going from 136 in August to 103 in September. In Will County, foreclosure filings fell from 607 in August to 476 in September- accounting for over an -21.58% decrease in filings.
Furthermore, foreclosure filings for September 2012 have also slightly decreased overall from last year when in September 2011 foreclosure filings totaled 5,161. Comparing September 2011 to September 2012, there was a minor decrease of -0.95% in foreclosure activity in September of this year with 5,112 total foreclosures.
Despite the Chicago area overall decrease from August to September, Illinois still has several thousand foreclosed homes sitting vacant. Investor Donald Cogsville, from New York City's Cogsville Group LLC, purchased 94 homes in September. The homes were purchased through the Federal Housing Finance Agency's REO Initiative. Through the rental program, the properties are sold in bulk quantities to investors who plan to make the homes into rentals. All home were said to have sold for above or near market value. These included 111 units total; 68 were presently occupied at the time of purchase. Cogsville intends to purchase around 3,000 foreclosed home in the Chicago land area. The homes are between $80,000 and $300,000 in mostly working class neighborhoods. Cogsville intends to rent out the homes with the potential to sell them to renters or eventually put them up for sale to the public.