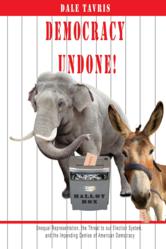 It is up to us to take back the democratic process
Los Angeles, CA (PRWEB) October 23, 2012
"Democracy Undone" is available as an e-book on Amazon, Barnes and Noble and from the publisher, BitingDuck Press. And not a moment too soon. As we get closer to this game-changing election day it becomes quite clear that our duty as citizens goes beyond getting out to vote or even getting out the vote (though both are extremely important)—these days we must also be prepared to carefully monitor how the votes are counted.
Nothing will prepare us for election multi-tasking better than reading Democracy Undone. Written by epidemiologist and former analyst for the Election Defense Alliance Dr. Dale Tavris, the book gives an insider's look into the ways an election can be manipulated, from electronic vote-counting machines to purging of voter rolls. It describes in detail how the 2004 election was decided by less than honest means in Ohio, where votes were registered, counted and reported largely by electronic machines produced and owned by private corporations. This year? It looks like we are in for an eerie repeat of the Ohio debacle, but it gets even better for those who like their news irony fortified. Machines on which the key votes of Cincinnatti and its environs are to be counted are now owned by H.I.G. Capital. Major HIG investors include, in addition to Bain Capital board members, none other than Mitt Romney, his wife, son and brother. Now there's an investment with major ROI potential for the R-money family, guaranteed to make their future tax returns even more interesting reading than the ones we don't get to see now.
Dr. Tavris gives us the big picture, from the buying of politicians by billionaires, to the spread of self-serving propaganda, to the disenfranchisement of qualified voters, but also goes behind the scenes to describe past events that were never fully investigated, up to and including the mysterious death of a person whose testimony was set to clear up some of the murkier questions surrounding the 2004 election. But not to discourage us utterly, Dr. Tavris offers suggestions as to what we, the people, can do to stem the tide of the blatant theft of what's left of our democratic institutions.
Dr. Tavris (MD, MPH) has worked as an epidemiologist and public health physician since 1979. He has published dozens of scientific articles in medical and public health journals, and two books (Philosophy in Epidemiology and Public Health and The Unfulfilled Promise of the American Dream). As a result of his articles on vote-counting machines, he was invited to participate in a delegation with the purpose of lobbying the U.S. Senate to challenge the results of the 2004 election.
The book was released on October 20, 2012 from BitingDuck Press, to much advance praise, and has already received two reviews citing its acumen and accuracy, and stressing its importance as a fair and true historical record.
BitingDuck Press was founded in 2012 by two PhD physicists. It is an independent press based in Pasadena and Montreal that focuses on fiction and non-fiction for science and scientists. Submission guidelines for authors can be find on the press's website.