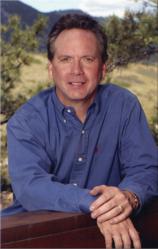 St. Louis, Missouri (PRWEB) October 22, 2012
On Tuesday, October 23rd, Baue Funeral Homes, Crematory & Cemetery will host a complimentary seminar for grieving families in the St. Louis and St. Charles areas with Dr. Alan Wolfelt at The Columns Banquet Center. In its 9th year, this seminar will welcome nearly 500 attendees for an evening of learning how to cope with grief, especially with the holiday season approaching.
Doors will open at 6:30pm and attendees will be welcomed with refreshments and snacks. The two hour program entitled: "Loving From the Outside In, Mourning From the Inside Out" will explore the "ripple effects of grief" and touch on unique aspects of personal grief.
Dr. Wolfelt will reflect on a "Mourner's Bill of Rights" which he created to help mourners learn to live well so they can love well. An acclaimed author, educator, and grief counselor, Dr. Alan Wolfelt is known across North America for his inspirational teaching gifts. His compassionate messages about healing in grief—based on his own personal losses as well as his experience supporting children, teens, adults, and families over the last three decades—speak not only to the intellect but to the hearts of all who hear him.
Seating is limited, to reserve a spot for Tuesday's Community Seminar visit baue.com or call 636-940-1000.
About Dr. Alan Wolfelt
The Oprah Winfrey Show, The Larry King Live Show and the NBC Today Show, among others, have relied on Dr. Wolfelt's insightful commentary on grief. Past recipient of the Association of Death Education and Counseling's Death Educator Award, Dr. Wolfelt is also a faculty member of the University of Colorado Medical School's Department of Family Medicine. Learn more at centerforloss.com
About Baue Funeral Homes, Crematory & Cemetery
For over 75 years, our family owned company has been committed to providing the best in life-honoring service to the families in the Greater St. Charles and St. Louis Areas. When you trust us to help plan a life tribute for your loved one, you receive the best in personalized care, the highest standards of quality, the most attentive and compassionate service, and the greatest value no matter what your budget may be. For more information visit baue.com