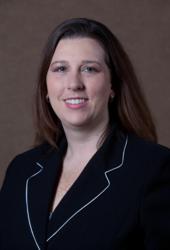 Amanda and her team have made Ft. Benning a much better place for service members and their families to live
Marlton, NJ (PRWEB) October 25, 2012
Amanda Weeks, community manager for Ft. Benning, Georgia, has been named the 2012 Property Manager of the Year by the National Association of Home Builders (NAHB), the leading trade organization for the housing industry. This national award, part of NAHB's prestigious Pillars of the Industry program, recognizes superior achievement and creative management in the multifamily housing industry.
"Amanda and her team have made Fort Benning a much better place for service members and their families to live, and Amanda personally has given her all to making a difference and she has," said Ron Hansen, president of Michaels Management Services, which provides property management services to The Michaels Organization's military housing portfolio. "This is a truly deserving award."
In recognizing her with this top honor, NAHB specifically lauded Weeks's outstanding job managing the transition when Michaels Management Services assumed property management responsibilities for Ft. Benning. When the owner of Ft. Benning's family housing asked for an immediate transition, Michaels Management Services assumed responsibility for managing 3,560 homes literally over a weekend. Accepting a transfer from MacDill Air Force Base in Tampa to take on this difficult assignment, Weeks quickly evaluated all current employees, reassigned and hired new staff as necessary, and trained all staff to the professional standards of Michaels Management Services.
In the time since that transition, Weeks has led a complete turnaround for this community, leading improvements in the base housing's overall condition, occupancy, and financial health. Under her management, Ft. Benning is now producing positive Net Operating Income and has increased occupancy from 78% to 95%.
Weeks is the first military housing community manager to be named the Property Manager of the Year by NAHB.
Stacey Loucks Honored as a Finalist
Stacey Loucks, Community Manager for Fort Huachuca and Yuma Proving Ground Communities in Arizona, this year also became the first military housing management specialist to be named a finalist for the NAHB's Regional Property Manager of the Year Award. Among Loucks many achievements: reaching record occupancy rates and exceeding income projections by more than $1.5 million since assuming management of the community. Loucks has maintained a 96% overall occupancy rate for three years.
"We are so proud of Amanda and Stacey, both of whom epitomize Michaels' deep commitment to providing outstanding service and enhancing the lives of the families who live in our communities," said Heather Plummer, senior vice president of Michaels Management Services.
About Michaels Management Services
Michaels Management Services and Michaels Military Housing are two of eight integrated but independent operating companies that comprise The Michaels Organization, a family of companies dedicated to excellence in affordable, mixed-income, military and student housing. Michaels Management Services currently provides community management and resident outreach programs to almost 28,000 families living on four Army bases and two U.S. Air Force bases, where Michaels Management Services is managing more than 8,300 on-post homes.