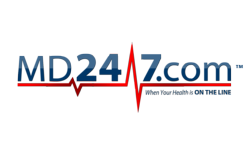 MD247 Reviews Open To All.
Tampa Florida (PRWEB) October 22, 2012
In an effort to assist small business owners in the creation of a sustainable business plan, MD247 recently announced that members would be given the opportunity to use two sites specifically designed for a MD247 review series. The sites will be open for consumer reviews of products like the MD247 telemedicine service, additional supplemental products which may be helpful to small businesses and individual program members. The interface for the participation of consumers will be a simple "comment" section, much like one may encounter when visiting any number of consumer websites.
The opening of the MD247 review sites to the average small business owner is intended to provide consumers with a protection website that does not cause undue harm to an innocent business owner. The sites are expected to be locations where it can be determined if certain products deserve the label "ripoff," while still managing to all a small business owner the chance to fix what might be wrong.
To learn more about the launch of the new consumer protection sites, please be sure to visit the MD247 blog within the next three weeks.
Largo Florida based MD247.COM (MD247; MD/247; MD 247; M.D.247; MD-247) provides an affordable telemedicine supplement to existing healthcare services. MD247.COM telemedicine program members have unlimited telephone access to a nationwide medical support team, all with just a single phone call to the MD247.COM telemedicine Chat With a Docto r/Talk to a Nurse Hotline. MD247.COM has a virtual platoon of registered nurses; board certified physicians and a support staff available to members for all non-emergency situations. More information about MD247.COM is available online at http://www.md247.com.