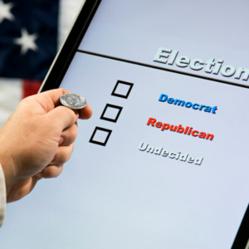 Spiritual and statistical methods converge on election prediction: a likely win for Obama on November 6th
Langhorne, PA (PRWEB) October 25, 2012
On October 16th, The New York Times acclaimed "Five Thirty Eight" polling blog by analyst Nate Silver gave President Obama a 64.8% chance of winning the upcoming election. A recent survey of 172 psychics from Psychic Source, the most respected psychic service since 1989, showed 71.5% of psychics predicting an Obama victory.
So is Nate Silver psychic or were the psychics secretly consulting Mr. Silver's site? And could they both be wrong?
We won't know for sure until November 6th, but the confluence of predictions in Obama's favor might be welcome news after the nail-biting, exhaustively over-analyzed nuances of the recent debates and overall campaign season.
The same agreement between spiritual and statistical realms is true for the Senate races. While Mr. Silver's blog gave Republicans only a 13.6% chance of winning a majority in the Senate, a slightly higher but still paltry 29% of the psychics predicted the same.
For the House of Representatives, psychics' predictions were split almost evenly, with 38% foreseeing a Democratic majority and 40% a Republican one. Mr. Silver's blog did not provide details on this question, but The New York Times election maps suggested a slightly higher chance for Republicans to maintain control.
And what is the basis for all of these fascinating forecasts? Whereas Mr. Silver uses complex algorithms, charts, and calculations to amalgamate the results of multiple polls and surveys, the psychics rely on less mathematical, more intuitive methods. "Mercury goes retrograde on the day of the election which usually means the current president will win again," reveals one professional psychic. Others cite spiritual guides, cards and even handwriting analysis of Obama's signature, "an indication of the way he can make the public swoon over him," according to one psychic.
*****
About Psychic Source:
Founded in 1989, Psychic Source is the nation's oldest and most respected psychic service. Psychic Source's advisors are experts in astrology, horoscopes, numerology, tarot cards, clairvoyant readings, and many other psychic disciplines. Psychic Source believes in its community of authentic Psychics and stands behind the authentic psychic readings they deliver to clients. Visit them online at http://www.psychicsource.com.
For more information, contact:
Maryanne Fiedler, Marketing Director
maryanne(at)psychicsource(dot)com
215-953-8568