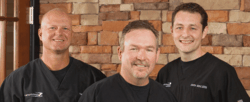 Fort Worth, TX (PRWEB) October 23, 2012
Fort Worth Dental's Dr. Zang and Drs. Mund and Mund, work hard to ensure that their patients are receiving all of the benefits that the current technological advances in dentistry have to offer. While dental implants have been studied for more than 50 years and have been used for more than 2 decades, technological advances have made them more accessible to the average person. Nearly everyone can qualify for this procedure, although there may need to be additional dental procedures performed in advance.
Tooth loss is a serious problem that can occur for a number of reasons. Tooth decay, accidents, and even gum disease all contribute to tooth loss. No matter the reason for the loss, it is a problem that should be addressed as soon as possible. The reason for this is that without the tooth stimulating bone re-growth, the jawbone can quickly begin to disintegrate or resorb. As this bone loss occurs, the teeth in the area may become loose and can also begin to move out of place.
When teeth are not properly aligned, the bite or the way a person chews is affected and eating can become a challenge. In addition to problems eating, if the teeth continue to move it can affect a person's ability to speak properly. Finally, the moving teeth may become so loose because of the lack of bone strength that they too fall out. Dental implants are an excellent way to stop these problems from occurring after the loss of one or more teeth.
Fort Worth Dental works with patients who have lost teeth and the doctors are highly skilled and trained in the dentistry techniques needed to install dental implants. The implants are made of titanium, which begins to fuse with the jawbone once it has been placed. This triggers re-growth in a manner similar to natural teeth. The implants can be accurately placed to improve the bite and are strong enough to encourage normal eating and speech. To learn more about implants or this branch of dentistry, please visit http://www.fortworthdental.com.
Fort Worth Dental is a general practice offering patients personalized dental care for Fort Worth, TX. Dr. Terry M. Zang, Dr. Arthur J. Mund and Dr. Justin Mund are all dedicated to their dental practice, which offers the recent FDA cleared laser procedure for gum disease and periodontal treatment. Focused on preventative, restorative and cosmetic dentistry, they each have unique attributes for the practice. To learn more about Fort Worth Dental and their dental services visit their website at http://www.fortworthdental.com.