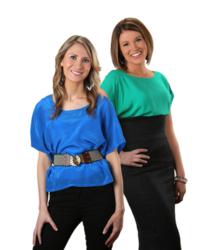 Boise, ID (PRWEB) October 23, 2012
"From ghoulies and ghosties/And long-leggedy beasties/And things that go bump in the night…" Halloween is the time for a good scare. But the one thing that shouldn't be scary? The Halloween budget. Couponing and family finance experts Joanie Demer and Heather Wheeler of TheKrazyCouponLady.com offer some valuable tips to save money on Halloween purchases.
1. Dollar Décor: Check out the local dollar store for decent decorations.
2. DIY: Don't forget, there are plenty of easy DIY décor projects. Check out KCL for different Halloween décor tutorials, including these: Trash Bag Tarantula, Milk Jug Skeleton, and Paper Bag Witch's Broom.
3. Costume Exchange: Kids never want to wear the same Halloween disguise twice. And who wants to wear an old sheet and go as a ghost? Have a Halloween costume swap with neighbors or friends. Everything is free!
4. Buy Bulk: Use sites like http://www.bestbuycandy.com and http://www.candy.com to buy Trick-or-Treat candy. Such sites offer a wide variety of treats, such as a five-pound bag (80 ounces) of saltwater taffy for $19 that saves significantly per pound. For example, one bag of 30 snack sized candy bars from Walmart is $5.25 (that's only 16.3 ounces). The online candy is $1.20 less per pound.
5. Re-Treat Bag: Don't buy an expensive Trick-or-Treat bag. Simply grab a reusable shopping bag from the grocery store for $1 or less. Cover the store logo with Halloween fabric, patches and other decorations from the craft store. Use hot glue so it is easy to peel off later.
6. Good Gourds: Grow pumpkins at home to save on the pricey variety the supermarket sells around Halloween. Learn how and get great tips at http://www.pumpkinnook.com/growing.htm.
7. Paint Pumpkins: Instead of carving pumpkins, paint them up the day before. They wash clean (with non-toxic paint) and can be used later for baking, to roast the seeds for snacks, or to make this delicious pumpkin butter featured on KCL. Remember to put a handful aside to dry for planting.
8. Toothsome Treats: Hosting a Halloween party is an expensive gig. Make it more affordable by baking cupcakes and other goodies. Spookify the treats with gummy worms and bugs.
9. Shop REALLY Early: Plan for next year's holiday bash and buy when 2012 costumes and decorations go on clearance, usually the day after All Hallows Eve. Items are often discounted up to 75 percent.
10. Thrifty: Everyone has heard this tip before, but it is worth repeating! Check out Salvation Army or Goodwill to find creative costumes and decorations.
11. Costumes: Don't Buy Too Early. Everyone from Old Navy to Pottery Barn Kids discounts their costumes (usually by at least 50 percent) in mid-October. When it comes to dressing up the family for trick-or-treating, it does NOT pay to plan ahead.
12. Buy Halloween Candy at a National Drugstore. Who knew, right? Drugstores are famous for running "loss-leaders," or sale prices that lose money for the company in order to lure shoppers into their stores. Walgreens, CVS and Rite Aid each have a loyalty program that entitles the customer to money-back or savings on the next order when making a qualifying purchase. They run these promotions on candy all of the time. Visit a deal-site like TheKrazyCouponLady.com and learn which drugstore has the best deal on Reeses, the number one Halloween candy, and which has the best deal on Skittles, etc.
13. Buy Candy at the Right Time. The best time to buy Halloween candy this year will be October 23-27. Candy sales start as early as September, but buying too early actually encourages consumers to spend more overall. The week before Halloween typically has an increase in printable coupons that shoppers can "stack" with sale prices, making candy over 70 percent off.
Heather Wheeler and Joanie Demer, founders of TheKrazyCouponLady.com and authors of Pick Another Checkout Lane, Honey! are money saving, bargain shopping and frugal living experts. With their knowledge and savvy, they've sold over 50,000 books, generated 2 million unique viewers per month at http://www.thekrazycouponlady.com, and garnered 730,000+ Facebook fans and 26,000 Twitter followers.