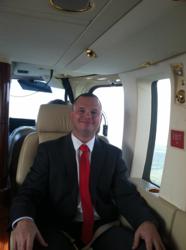 Cleveland, OH (PRWEB) October 24, 2012
Cleveland native Roger Bryan has been working in internet marketing for over a decade and now runs his own company. Known as an entrepreneur to those in the area, he has been receiving many questions and comments in regards to the recent discussions regarding entrepreneurial policy in correlation to the Presidential election. As much of the election focuses on economic issues, comedian Jon Stewart made remarks on his show about entrepreneurship and the risk factor involved. After the media swell, Roger Bryan has been sharing his experiences as an entrepreneur on social media platforms.
There have been many remarks throughout this Presidential election in both campaigns about the importance of entrepreneurship, but it seemed that a comment by Jon Stewart on "The Daily Show" that seemed to really peak people's interest. During an interview, Stewart mentioned his disbelief in the level of risk involved for entrepreneurs in the US, and that he believes we should work to "soften the damage of risk" instead. Although there are risks involved, for internet marketing expert Roger Bryan, the entrepreneurial lifestyle has paid off.
Roger Bryan recognizes, "starting an Internet Marketing Business can be challenging," but also points out that "starting an internet business does not have to be expensive if you plan properly." Bryan is an active business coach and often answers questions via his social media accounts, such as Twitter and Facebook. Roger Bryan has now expanded his assistance of other startups as he hosts a monthly Meetup for Cleveland area entrepreneurs to help them utilize internet marketing strategies.
What's in it for Bryan? Beyond networking, he finds that the reason entrepreneurs can continue to succeed despite the risk pointed out by Jon Stewart on "The Daily Show" is due to their support systems. Through a solid coaching program and an excellent business plan, Roger Bryan believes that startups can succeed even though, according to his Twitter account, "some days running a business can be a bit stressful". For more information on Roger Bryan or to get help with a Cleveland startup business, visit https://twitter.com/rogercbryan