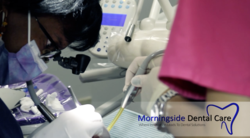 New York, NY (PRWEB) October 23, 2012
Dr. Donna Williams of Morningside Dental Care treats local patients with professional teeth whitening products with individual treatment plans. She knows how important a bright, white smile is. While there are dental whitening toothpastes, rinses, gels, strips and trays that are available over-the-counter or online, they do not usually produce the optimal results most people are looking for. Working with a cosmetic dentist is an excellent way to get a customized smile.
Dr. Williams offers several whitening procedures to her patients, including tray-based and in-office treatments. The tray-based treatment utilizes customized dental trays that are fitted to the individual patient's teeth. The trays are designed to be worn for a specified amount of time each day or night, based on the level of whitening desired. In addition, the cosmetic dentist can personalize the whitening solution being used, depending on the reason teeth are discolored and based on the sensitivity of the teeth. The trays and whitener are taken home and the procedure is done by the patient on their own time.
In-office whitening is the fastest method of lightening teeth. While it may require more than one visit to the dental office to reach the expected level of whiteness, each visit will produce visible results. The procedure utilizes a whitening agent that is combined with a special laser for the best results.
With over-the-counter tray products, the fit is not customized so teeth may not whiten as evenly as with the customized trays. In addition, the bleaching agent used by Dr. Williams will be much stronger than anything one can get elsewhere. For more information on whitening procedures and products offered by a cosmetic dentist, visit http://www.nylasergumsurgery.com.
Morningside Dental Care is a general practice offering patients personalized dental care for New York, New York. Dr. Donna Williams started her dental career at Howard University as a Dental Hygienist. She graduated from Baltimore College Dental Surgery/University of Maryland, the first dental school in the world. Throughout her dental school education she received awards and recognition, including maintaining a 4.0 GPA during her initial year, and an award for outstanding research in the Dental Clinical Science Research competition. She completed a fellowship in Holistic dentistry and is one of very few general dentists who have achieved this accomplishment. Having lived in Africa for a year, she returns on a regular basis to volunteer, providing dental service and education to villagers. Dr. Williams is part of one percent of dental professionals providing the most recent FDA cleared laser procedure for gum disease and periodontal treatment. To learn more about Morningside Dental Care and their dental services visit their website at http://www.nylasergumsurgery.com and call (347) 694-4342.