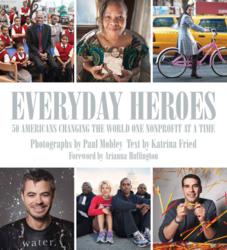 We've branched out now beyond the medical care. It's still the backbone of our organization, be we also work to supply clean water and provide microfinancing.
-- Dr. David Vanderpool
Nashville, TN (PRWEB) October 23, 2012
Dr. David Vanderpool, CEO of Mobile Medical Disaster Relief (http://www.livebeyond.org), has been recognized for his leadership as a social entrepreneur striving to impact the lives of those in need. Everyday Heroes is a "look inside" the world of social entrepreneurs giving us an exquisitely photographed "sacred bundle of stories".
Two years ago, photographer Paul Mobley and author and editor Katrina Fried set out to find fifty Americans who had made it their business to improve the lives of others. The result is this groundbreaking book profiling some of America's leading social entrepreneurs whose energy and nonprofit organizations have changed the lives of millions around the world, very often one at a time.
From activists who have rallied the support of hundreds of volunteers to bring such necessities as clean drinking water, economic support, and urgent medical care to developing nations, to educational leaders who are using their gifts to elevate the opportunities of the poor and disadvantaged, to crusaders of equal rights and women's advocacy, these are remarkable everyday citizens. Fried interviewed this eclectic and passionate group of people and has written their startling stories, sharing a unique view of their personalities, journeys, and causes. In Dr. Vanderpool's case, the photographs and story were documented in Port-Au-Prince Haiti, where a mobile medical clinic was taking place supporting recovery of the devastating Haiti earthquake of 2010. Visit http://bit.ly/everydayheoresonamazon to learn more.
Mobile Medical Disaster Relief provides medical care, clean water, nutritional support and micro finance solutions to the developing world after natural and man made disasters. MMDR has broken ground on the Live Beyond Base that will house a surgical hospital, orphanage, secondary school, and vocational training center to fulfill the unmet needs of this region of 180,000 residents. Dr. David Vanderpool's practice, LAVE MD, has primarily funded MMDR since inception in 2005.