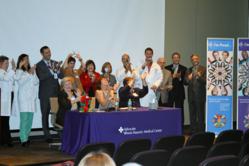 This Magnet redesignation reflects our dedication to the patients and the community we serve as we continue our journey of clinical excellence.
Chicago, Ill. (PRWEB) October 24, 2012
It was announced Monday that Advocate Illinois Masonic Medical Center achieved Magnet redesignation for excellence in nursing care by the American Nurses Credentialing Center's (ANCC) Magnet Recognition Program.
A feat accomplished by only 33 other hospitals in Illinois and 395 nationally, this redesignation is the second time Advocate Illinois Masonic has demonstrated the stringent criteria to receive the designation. The medical center was originally awarded Magnet designation, which lasts for four years, in 2008.
Magnet recognition is the highest award a hospital can receive for outstanding nursing care. Hospitals achieving Magnet status are noteworthy for their quality, excellence and innovation in nursing. Research indicates that health care institutions with these characteristics have improved overall patient outcomes, shorter lengths of patient stay, higher rates of patient satisfaction and greater cost-efficiency.
"This Magnet redesignation reflects our dedication to the patients and the community we serve as we continue our journey of clinical excellence," said Donna King, BSN, MBA, RN, NE-BC, FACHE, vice president of Clinical Operations and chief nurse executive. "Redesignation means we have become a 'magnet' for the best and brightest health care professionals have to offer—nurses, technologists, physicians and support staff. It recognizes the excellent work we perform every day as a team—a family—of health care providers to provide the highest quality care possible for those we serve."
King said the nurses, associates and physicians at Advocate Illinois Masonic gathered around the phone to receive the good news today, breaking into celebration with the announcement from a representative of the ANCC. The announcement was the culmination of a rigorous process that included an extensive application, interviews and a three-day, on-site survey by ANCC reviewers. To qualify for Magnet redesignation, the medical center had to demonstrate hard and fast outcomes of its work the past four years since achieving its original designation on Jan. 14, 2008.
"There are clear benefits to Magnet-recognized hospitals and the communities they serve," said Susan Nordstrom Lopez, president. "Recognizing quality patient care and nursing excellence, Magnet recognition provides consumers with the ultimate benchmark to measure the quality of care that they can expect to receive at Advocate Illinois Masonic."
Health care consumers have more confidence in the overall quality of a hospital if it has achieved the level of excellence established by the Magnet Recognition Program. Magnet recognition is often referred to as the "gold standard" by which nursing and patient care is measured. The concept of Magnet was initially developed in 1982. The American Academy of Nursing's Task Force on Nursing Practice in Hospitals conducted a study of 41 hospitals to identify and describe variables that foster an environment that attracts and retains well-qualified nurses and promotes quality patient care through excellence in nursing services. These institutions were called magnet hospitals because they serve as magnets to attract and retain professional nurses.
In 1995, the ANCC began to officially recognize hospitals with the Magnet designation. The ANCC is a separately governed and operated subsidiary of the American Nurses Association, and is the largest, most prominent nursing credentialing organization in the United States.
About Advocate Illinois Masonic Medical Center
Advocate Illinois Masonic Medical Center is a 408-bed hospital in Chicago with a Level I trauma center and a Level III Neonatal Intensive Care Unit, the highest designations awarded by the state of Illinois. It offers comprehensive inpatient services, including medical, surgical, obstetrics and pediatric care, as well as a full breadth of outpatient services. A recipient of numerous awards for quality and clinical excellence, Illinois Masonic was ranked one of the nation's 100 Top Hospitals in 2010, 2011 and 2012 by Truven Health Analytics (formerly Thomson Reuters). The medical center has been named a Leader in the Human Rights Campaign's Healthcare Equality Index for the past four years, as well as one of the Chicago region's Best Hospitals by U.S. News & World Report for the past two years. In 2008, the hospital achieved Magnet designation for excellence and quality in nursing services by the American Nurses Credentialing Center's Magnet Recognition Program. Magnet redesignation was achieved in 2012. Illinois Masonic is part of Advocate Health Care, a 2009 and 2010 Thomson Reuters Top 10 U.S. health care system for quality and clinical performance and the largest provider of health care services in Illinois. For more on Illinois Masonic, visit http://www.advocatehealth.com/masonic.