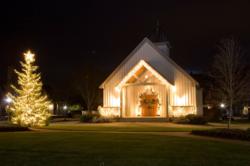 Christmas comes early with a special package that gives visitors a $100 resort credit for stays booked in November and December.
Adairsville, GA (PRWEB) October 23, 2012
This holiday season, retreat to Barnsley Gardens Resort where it's not just a place to stay but a place to truly celebrate the season. Here, not only is Santa Clause real but so are Fairy Godmothers. On the weekends from Thanksgiving to Christmas, the resort will offer guests a magical holiday getaway complete with seasonal activities hosted by the Fairy Godmother, such as the lighting of the historic ruins, carriage rides, gingerbread and wreath making craft classes, holiday movies, S'mores toasting and holiday sing-alongs around fire pits, and so much more. The entire resort will be covered in Christmas lights and elegant holiday décor, transforming the grounds into a magical winter wonderland. With so many activities, such as world-class golf, a European spa, miles of hiking trails, horseback rides, Frisbee golf, and hunting and clay shooting at Springbank Plantation, a stay at the award-winning Barnsley Gardens Resort promises to be an enjoyable and relaxing holiday vacation that won't soon be forgotten.
Thanksgiving Day
The holiday fun begins with a special Inaugural Lighting of the historic Ruins on November 21st. Guests will be invited to take in the magical setting as they enjoy roasting S'mores by the fireside and sipping hot toddies or hot chocolate. Carolers and storytellers will immerse everyone in the holiday spirit at this festive Thanksgiving Eve celebration. On Thanksgiving morning, youngsters can enjoy Breakfast with Santa. Later that day, the Thanksgiving Day Buffet will feature traditional favorites like turkey, dressing, cranberry sauce, and more. Seatings for the buffet will be at 11:30 a.m., Noon, 1:30 p.m. and 2:00 p.m. The price of the buffet is $48 for adults, $24 for children ages 6-11, and free for children 5 and under. After the buffet, guests are invited to explore the property with a horse and carriage ride that winds around the historic Ruins. Guests looking to be more active can explore the resort's miles of hiking trails and burn off some Thanksgiving calories.
Holiday Crafting
Create one-of-a-kind holiday crafts and treats with the Fairy Godmother this holiday season. Children can try their hand at crafting with a Kids Craft Session on Thanksgiving Day with the Fairy Godmother from 2-4 p.m. Families can make memories that last a lifetime during the Gingerbread Craft Session on November 23 from 1-2:30 p.m. Other holiday fun includes Wreath Making Classes from 2:30-5:30 p.m. on November 24th and December 8th and a Holiday Tablescapes class from 11 a.m. to 1 p.m. on December 1st, where visitors can take a little of Barnsley home with them. The resort's horticulture team and florists will be on hand to assist with creating tablescapes and wreaths made from greenery grown on the property.
Cocktails in the Classroom
Cocktails in the Classroom offers a great way for guests to get together and have fun with friends while learning a few new baking tricks to take home and put to use during the Holidays. Guests with a sweet tooth will enjoy creating their own desserts with Chef Vosburg at the Be a Dessert Diva class on Saturday, December 1 from 1-3 p.m. and baking cookies and sipping cocktails at the Bake and Take class on December 15 from 1-3 p.m. During both classes, guests will learn how to create old favorites as well as some easy and fun put-together treats that will wow friends and relatives during festive gatherings. Adults can also learn how to mix up classic cocktails, as well as hot new trendy beverages for the holiday season and beyond at The Art of Mixology with the Wine Snob on Thursday, December 6 and Thursday, December 20 from 4-6 p.m.
'Noggin at the Beer Garden
Guests are invited to Friday Night 'Noggin at the Beer Garden where they can share S'mores, hot cocoa, the resort's special Woodford Reserve Eggnog, and relax with family and friends around a roaring fire. Friday Night 'Noggin at the Beer Garden will be held on November 23.
Christmas
Christmas Eve will be filled with holiday cheer after a service in the Town Hall from 7-8 p.m. The Fairy Godmother will be hosting Games with the Grinch afterward, where guests can play Bingo and other family games. There will also be a showing of "How the Grinch Stole Christmas" and coffee and cocktails from 9 p.m. until midnight. On Christmas Day, guests can feast on traditional favorites at the Christmas Day Buffet. The price of the buffet is $48 for adults and $24 for children ages 6-11. Seatings for the Christmas Day buffet will be at 11:30 a.m., Noon, 1:30 p.m. and 2:00 p.m.
New Years Eve
Welcome the New Year at Barnsley Gardens Resort with a four-course New Year's Eve dinner in The Rice House. Dance the night away at a reception after dinner in the historic Ruins, complete with an open bar, passed hors d'oeuvres, a champagne toast, and party favors. The Fairy Godmother Frog Drop at Midnight will ring in 2013 with a bang!
To celebrate the magic of the season, book a Barnsley holiday escape by calling (877) 773-2447. Reservations for the Thanksgiving and Christmas Day Buffets are strongly recommended.
About Barnsley Gardens Resort:
In the foothills of the Blue Ridge Mountains just 60 miles north of Atlanta, Barnsley Gardens Resort welcomes guests into a storybook romantic setting of incomparable service. Encompassing 3,300 acres, the historic Barnsley Gardens offers a unique getaway experience. Originally built as an opulent estate in the 19th century, the grounds have been transformed into a world-class resort. All guests are lodged in private rooms, suites or cottages, all luxuriously appointed with a mix of old-world charm and modern convenience. Whether looking for a relaxing weekend, strategic meeting or an elegant wedding, guests will discover a retreat of privacy and perfection. Amenities include gourmet dining, immaculate gardens, historic ruins, a European-style spa, and exciting recreational choices such as world-class golf, wingshooting and hunting at Springbank Plantation – Georgia's most unique hunting preserve, and horseback riding along scenic trails. http://www.barnsleyresort.com.
#