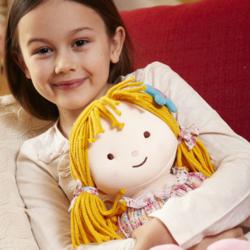 Following our exhibition at the Autumn Fair, we've received a hugely positive response to our new product lines like Socky Dolls™
(PRWEB UK) 22 October 2012
The Intelex Group portfolio of products, which included licensed brands like Gromit® and Bagpuss® are considered good selling products, particularly in the gifting sector all year round, but the winter months are especially good for sales, given that the majority of Intelex's product range are fully warmable in the microwave and the perfect solution to banishing winter chills.
Darren Ingram, Sales Director at Intelex says…"Following our exhibition at the Autumn Fair, we've received a hugely positive response to our new product lines like Socky Dolls™ and Warmhearts™ rag dolls. We are encouraging our trade customers to start placing their orders for Christmas now to guarantee stock." Indeed, with only 86 days remaining until Christmas, retailers are already preparing their retail shelves for what hopes to be a buoyant trading period. With 2012 having seen some depressed economic conditions across Europe and many retailers feeling the pinch, Intelex have invested behind their new product pipeline in an attempt to support retailers with innovative new products to inspire shoppers.
The heatable product portfolio of Intelex has wide ranging appeal, with the likes of the new Hot Pack® Body Range being stocked in garden centres, which are becoming destinations unto themselves, working hard to widen their range in order to de-seasonalise outside spring and summer. Products like Hot Pak®, Warmhearts™ rag dolls and Cozy Plush™ soft toys are exactly the type of products that sell well in garden centres across the UK.
When asked why he thinks Intelex products distribution is spread so widely, Darren Ingram says, "The Intelex soft toy products for example are designed with a dual purpose. Not only are they fun and plush soft playthings for children, they are also fully heatable, meaning they can instantly warm beds or be taken on the school run on chilly mornings. That's why our customers love the Intelex product range. Their fun, their innovative and they are useful. It's also combined with the fact that our trade prices enable retailers to make a very decent margin."
With Christmas fast approaching, retailers are well advised to get their orders in now and their shelves stocked with products to start inspiring shoppers. New customers wanting to become a trade customer with Intelex, please visit the registration page at Intelex website http://www.intelex.co.uk.