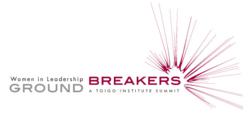 The hotel group rate expires on November 9th. Register online until December 1st!
New York, NY (PRWEB) October 22, 2012
What: Groundbreakers 2012 will bring together senior leaders (and those on their way) to share insights and inspire each other. The overall focus of the event: Your career trajectory, your leadership style and your ability to play to your strengths (and more)
Who: Groundbreakers will feature prominent leaders from business—and beyond including—
Anne Ackerley – Chief Marketing Officer - BlackRock
Cheryl Alston – Executive Director - Employees' Retirement Fund of the City of Dallas
Antoinette Chandler – Chief Deputy Treasurer | County of San Diego Treasurer - Tax Collector's Office
Abigail E. Disney – Filmmaker and Philanthropist
Elizabeth Greenwood – Trustee – Los Angeles City Employees' Retirement System
Deborah Harmon – Co-Founder and Chief Executive Officer | Artemis Real Estate Partners, LLC
Janet Hill – Principal | Hill Family Advisors
Gwen Ifill – Moderator and Managing Editor | Washington Week - Senior Correspondent and Co-anchor | PBS Newshour
Nancy Lashine – Managing Partner and Founder | Park Madison Partners
Debbie McCoy – Director – SEED Institute, Stanford University
Nicole Pullen Ross – Managing Director, Mid-Atlantic Region Head | Goldman, Sachs & Co.
Suzanne Shank – Vice Chair, President and CEO | Siebert Brandford Shank & Co., LLC
Anne Simpson – Senior Portfolio Manager, Director of Corporate Governance | California Public Employees' Retirement System
Anne-Marie Slaughter – Bert G. Kerstetter '66 University Professor of Politics and International Affairs | Princeton University
Sharon Vosmek – Chief Executive Officer | Astia
Kelly M. Williams – Man. Dir. and Head of Customized Fund Investment Group | Credit Suisse
Penny Zuckerwise – Senior Managing Director, Head of Institutional Distribution | Guggenheim
Also participating in the women's second annual leadership conference, and named by Toigo as "Pioneers of Progress", is a select group of senior finance leaders committed to the advancement of women and the launch of the annual conference, a Toigo Foundation Summit.
When: December 13, 2012 | 8:00 AM – 6:00 PM
Where: TimeWarner Center - New York City
Cost: Single Ticket ($400) | Six-Pack ($2,400 - Purchase 6 tickets and the 7th is FREE! Purchase two or more six packs and be listed as a contributing sponsor) *Special pricing for Toigo Alumni, Educators, Marketing Partners and Public Sector Representatives
Register: Register online by December 1st! *Discounted hotel rate at The Helmsley Park Lane Hotel 36 Central Park South | Group name "Toigo Groundbreakers"
Group rate expires November 9th | Hotel reservation number: (212) 371-4000
Leadership Partners:
Blackstone Charitable Foundation
Ernst & Young
TimeWarner
Supporting Partners:
ALSTON + BIRD LLC.
The Carlyle Group
SSGA – State Street Global Advisors
Contributing Sponsors:
ING Investment Management
Starwood Capital Group
UBS
Marketing Partners
Astia
ALPFA
Falk Marques Group (Women in Alternatives Summit/Women in Private Equity Summit)
RG & Associates
SEO – Sponsors for Educational Opportunity
WIRE – Women in Real Estate
Host: Toigo Foundation